A*G Rewards
is a rewards program started by
American Girl
in June 2016.
Overview and Earning Points
An American Girl Rewards account has no cost to sign up or annual fee, and is tied to any American Girl account via e-mail. Members must be over the age of 18 and set up their account with a valid, not already in use e-mail address. Starting in Sept 2017, American Girl limited enrollment in A*G Rewards to US-only Billing addresses. (Any other accounts were closed by October 9, 2017, and any earned reward certificates were issued for the last time in October 2017.)
Purchases can be automatically added to the point system at time of purchase through account. If they are not applied then, they can be applied to the account manually by the purchaser or Customer Service for about two weeks after the date of purchase. All regular, sale, and clearance merchandise purchased online, over the phone, or in American Girl retail stores in the United States (not Canadian or Mexican boutiques) qualifies for rewards points, as well as in-store American Girl restaurant purchases. Points cannot be earned on any purchases made before enrollment in the program.
Things such as sales tax, shipping charges, the initial purchase of gift cards, bulk sales for commercial purposes/resale, donations to charity through American Girl, or purchases with employee discounts are not eligible (however, purchases made with purchased gift cards qualify). Extra points can also be given for participating in various offers and/or events, or downloading various apps.
By default at the Silver level[1], each dollar of a purchase price (not including tax and/or shipping) adds one point to an account. This is rounded up (so a purchase between $9.01 to $10 will earn 10 points). Existing points remain active by making at least one qualifying purchase within a twelve-month period.
Members may also earn five points for every approved review of products on the website made while logged into their account that meets qualifications (articulated in the terms of service) for a maximum of thirty points per membership year (six total reviews).
A month begins on the day a customer joins the program, and continues for thirty days thereafter. A membership anniversary year begins on the day a customer joins the program and continues for approximately 365 days thereafter.
Points can be removed by American Girl for returned products; if returns result in negative point balance, then further points earned will accumulate and reduce negative balance.
Earning Reward Certificates
For all Levels, every 200 Points earned ($200 spent) offers a $10 Reward Certificate that is sent through e-mail. Points will be removed from account, but will not reduce the membership tier level.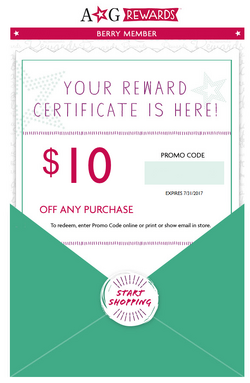 Members can earn a maximum of $50 in rewards a month (so after spending $1000 a month) and $500 in rewards per year (or $10,000 spent in a year's time). Points are cumulative; if a customer purchases earns 250 points in one month but only 150 in the next, the extra 50 points will carry over to the next month and the customer will earn another certificate. Accumulated points will stay in an account as long as customers make one purchase per year; if no purchases are made in a full year, all accumulated points not already redeemed will expire.
Certificates are issued around the 15th of each month, according to points earned in the previous month (including any previous unredeemed points). Each Reward Certificate must be redeemed before it expires; expiration dates are noted on the certificates and are active until generally the end of the next month. For example, if a customer purchases $250 worth of items in October 2016, then a certificate for $10 will be issued on November 15, 2016 and will expire by December 31, 2016.
Certificates have single-use unique codes; they are only issued via e-mail but may be printed off for store use or presented in store from the e-mail with a clearly visible code. Certificates are able to be used for any qualifying purchases both in store and online or by phone order, but (sometimes) may not combine with other offers or sales, which includes additional certificates or store returns (for example, if a person has two $10 certificates, they cannot be combined on a single purchase). Codes are not tied specifically to an account; if a person "gifts" a certificate to another person, they may use it freely.
Reward Certificates can only be issued once, may only be used once, cannot be replaced if lost or stolen, and are not redeemable for cash. If a purchase made with a reward is returned, the certificate is not reissued for second use.
Membership Tiers
There are three levels of membership: Silver, Gold, and Berry. Each level encompasses the level before it--so for example, a person at Gold Level will receive all potential rewards in both the Silver and Gold Levels.
Silver Level: 0-349 Points
Exclusive birthday gift (video, and gift starting Oct 2018)
Access to Various Member-Only rewards.
Gold Level: 350-699 Points
Early Access to Sales and Specials
Access to Special Events and Experiences at stores.
Earn 1.25 points per dollar spent, a 25% bonus (starting Oct 2018)
Berry Level: 700+ Points
VIP Surprise
Special annual rewards
Earn 1.5 points per dollar spent, a 50% bonus (starting Oct 2018)
Free Tiara Included with the use of American Girl Doll Salon. A code is sent via e-mail and can be redeemed once per calendar year on an eligible doll hair salon purchase.
Once a tier is reached, customers have a full twelve months from the date when the given tier was reached to make enough purchases to maintain that status, every year (e.g. a member who makes Berry Status in March 2017 has until March 2018 to earn another 700 points to maintain the Berry level). If not enough points are not earned within that year to maintain a given tier, then the tier level will change accordingly based on the points earned in that year (e.g. a Berry level member who spends between $350 and $699 in a 12 month period will be dropped to Gold Level, but if they spend less than $350 they will drop to Silver).
Noted Unique AG Rewards Offers
Melody's AG Rewards Collection: From August 1st to August 8th 2016, early members who enrolled into the program (before July 27th) were offered a chance to purchase a starter collection for Melody Ellison. Purchase included free shipping and expected delivery on or before August 18th, 2016 (a week before the collection's official release).
Holiday Event: A Members-Only RSVP Event at local American Girl Place locations were held from Late October to November 2016. Attendants could bring guests and received in-store gifts; the events had small refreshments and certain items were on sale in some locations.
Early-Access Cyber Monday: On November 27th 2016, AG Rewards Members were given early access to Nov. 28th Cyber Monday Sales for four hours.
Early Book Offer: Berry Level reward members were offered a free copy of American Girl Parties with personal codes in Fall 2016.
Summer Event: A Members-Only Event at local American Girl Places were held from Late June to July 2017.
Member-Only Purchase Items: In 2017, two outfits--the Gymnastics Outfit IV for 18" dolls and the Pink Rose Dress for Bitty Baby--were made available to members online. Items could only be purchased while members were logged into their account.
Nanea's AG Rewards Collection: From August 1st to August 7th 2016, members with at least Gold Level status were offered a chance to purchase a starter collection for Nanea Mitchell. Purchase included free shipping and expected delivery on or before the collection's official release, and included some extras unavailable otherwise. This was also available in American Girl Place locations if a purchaser could prove their tier level.
A*G Rewards Outfit Offer 2017: From Nov 14th to Nov 30th, 2017, Berry Level reward members were offered an outfit for no cost (including free shipping) with personal codes. Outfit options were:
Luciana's Space Suit Purchase: Only AG Rewards Members could purchase Luciana's Space Suit starting at the collection launch; non-members must wait until August 2018. However, customers could sign up on the spot to purchase.
Birthday Gifts: Starting October 2018, all members can receive birthday gifts for up to four registered children's birthdays. Providing birthdays is optional, and member must enter their child's (or user's) birthday into the Member's My Account profile at least fifteen (15) days prior to the month of the birthday in order for it to be processed in time. A code is provided that can be redeemed for a free book from offered list.
Holiday Passport: In October 2018, any qualifying purchase in the month earned a Holiday Passport that provided holiday perks. The Passport was mailed to homes and could be redeemed either online or at stores.
November's offer was free Pampering Plus and Doll Nail Polish service for a doll with the purchase of any hair styling at a value of $10 total.[2]
December's offer is the Lilac Dress meet outfit with any purchase of $50 or more.
Januarys offer is a free book with any Girl of the Year 2019 purchase.
A*G Rewards Outfit Offer 2018: From December 4th to December 12th, 2018, Berry Level reward members were offered an outfit for no cost (including free shipping) with personal codes. Outfit options were:
Links and References
References
↑

Until October 2018, this was the standard for all levels.

↑

As this requires store services, no substitute was available for users unable to access a store location.