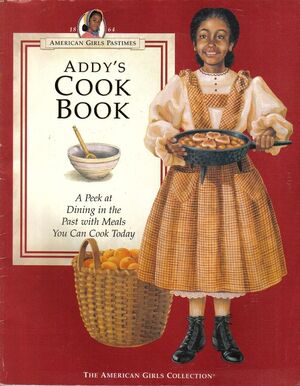 Addy's Cook Book was a cook book focused on Addy Walker.
Contents
Introductions/Historical Information
Cooking in the Civil War
Kitchens in the 1860s
Setting Addy's Table
Tips for Today's Cooks
Breakfast
Hominy Grits
Pork Sausage and Gravy
Buttermilk Biscuits
Fried Apples
Scrambled Eggs
Dinner
Corn Pudding
Hoppin' Johns
Fried Fish
Hush Puppies
Sweet Potato Pone
Favorite Foods
Chicken Shortcake
Collard Greens
Cornbread
Potato Salad
Lemonade
Peach Cobbler
Pound Cake
Shortbread
Plan an Emancipation Party
Ad blocker interference detected!
Wikia is a free-to-use site that makes money from advertising. We have a modified experience for viewers using ad blockers

Wikia is not accessible if you've made further modifications. Remove the custom ad blocker rule(s) and the page will load as expected.