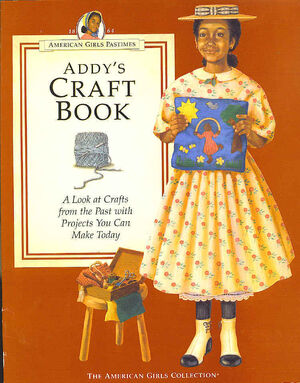 Addy's Craft Book was a craft book focused on Addy Walker.
Contents
Home Comforts
Hooked Rug
Spatterwork Picture
Paper Pastimes
Wallpaper Box
Revolving Serpent
Animal Chains
Playthings
Shadow Puppets
Jacob's Ladder
Hodeyhorse
A Stitch in Time
Appliqued Pillow
Drawstring Bag
Cross-Stitch Bookmark
Games
Changeable Pictures
Tangram
Jump Rope
Addy's Craft Book and Kit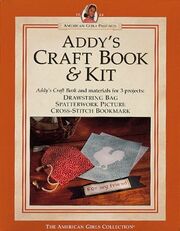 Addy's Craft Book and Kit included the book and supplies to create three items: Drawstring Bag, Spatterwork Picture, and Cross-Stitch Bookmark.
Ad blocker interference detected!
Wikia is a free-to-use site that makes money from advertising. We have a modified experience for viewers using ad blockers

Wikia is not accessible if you've made further modifications. Remove the custom ad blocker rule(s) and the page will load as expected.