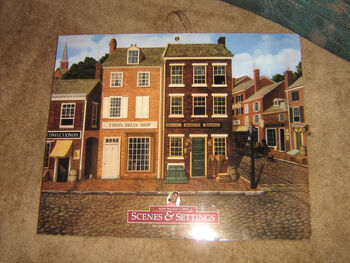 Addy's Scenes and Settings
was introduced to
Addy's Collection
in
1996
and
retired
in
2000
. Retail cost was
$48
.
Scenes and Settings
Foam board display book. 23.5" x 29.5" long, opens to 58" flat. Snaps with clear strap at side to close and on top to close and carry.
Cover
Street in front of Mrs. Ford's Dress Shop.
Scene 1
Kitchen of the Goldens' boarding house.
Scene 2
Interior of the Walkers' bedroom in the Golden's boarding house.
Scene 3
Interior of classroom at Sixth Street School.
Scene 4
Interior of Mrs. Ford's Dress Shop.
Scene 5
Grounds of church fair from Addy Saves the Day.
Back
Addy's World Map.
Booklet
Informative booklet about locations.
Ad blocker interference detected!
Wikia is a free-to-use site that makes money from advertising. We have a modified experience for viewers using ad blockers

Wikia is not accessible if you've made further modifications. Remove the custom ad blocker rule(s) and the page will load as expected.