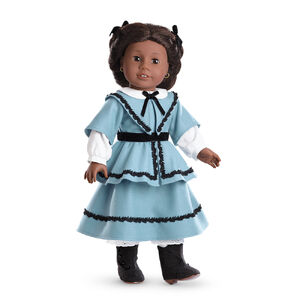 Addy's School Outfit was introduced to Addy's Collection in 2014. Retail cost is $34.
Jacket Top
Powder blue faux-wool jacket style top. Top is designed to look as if to be a jacket over white blouse. White curved "blouse" collar. Pointed V drape second collar, accented near "blouse" collar with thin black velvet ribbon bow; back is curved. Bell oversleeves with slight front curve and simulated white "blouse" undersleeves. Black velvet ribbon belt, loosely tacked. Split long peplum. Black feather-style trim at jacket collar and peplum edge. Velcros up the back.
Skirt
Powder blue faux-wool calf length skirt. Back center seam. Black feather trim at hem. Blue stretch elastic style waist.
Hair Combs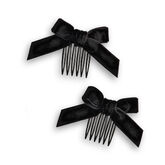 Black decorative hair combs with attached black velvet bows (diagonal cut ends); bows are of same velvet as waist of jacket top.
See Also
Ad blocker interference detected!
Wikia is a free-to-use site that makes money from advertising. We have a modified experience for viewers using ad blockers

Wikia is not accessible if you've made further modifications. Remove the custom ad blocker rule(s) and the page will load as expected.