Addy Walker (doll)
Talk

0
2,790pages on
this wiki
The
Addy Walker
doll was released in Fall 1993.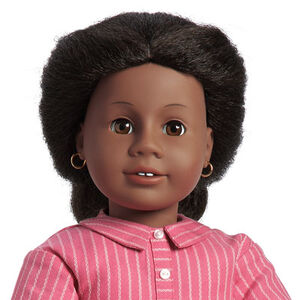 Addy Doll
Skin: Dark Brown
Hair: Textured dark brown, long, center part, no bangs
Eyes: Dark Brown
Other: Addy has permanent gold loop earrings in each ear.
Meet Outfit
Addy's Meet Outfit is significant because it is the first clothing she received after running to freedom. It is a gift from Miss Caroline and is a sample of the clothing style of the day for young girls.
Dress
A simple double pink (or cinnamon pink) day dress. The fabric has fine white wavy lines and dots in vertical "stripes". The dress has dropped shoulders, straight sleeves, and a rounded collar with translucent white buttons down the front of the dress. Velcros up the back and around the wrists; the skirt comes to about mid-calf, the length appropriate for a girl of about eight to ten years of age during her time period.
Stockings
Black knit stockings that reach to the knees. While Addy would have worn garters, she is not sold with any.
Boots
Black lace-up boots with black shoe laces; stiff soled with cap-toes.
Drawers
White cotton "drawers" trimmed with lace; elastic waistband in the back.
Hair Ribbon
A 1/4" wide navy blue satin hair ribbon.
Meet Accessories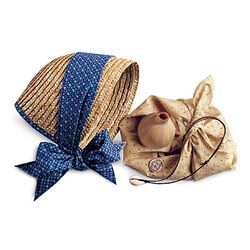 Straw Bonnet
Straw hat with a blue calico print ribbon. The ribbon is sewn around the bottom edge as trim and the tying ribbon is tacked near the front. The right ribbon is shorter than the left as the ribbon is to be tied on the right side of her face.
Kerchief
Addy's "purse", a large square beige printed kerchief that is knotted up to hold Addy's things.
Gourd
A water gourd brought with Addy and Momma as they run away to try and escape slavery.
Half-Dime
A replica of a Seated Liberty Half dime; given to Addy by Uncle Solomon.
Cowrie Shell Necklace
A cowrie shell tied to a black cord; adjustable by two knots that slide up and down on the cords. This necklace has significant meaning for Addy as it's the cowrie shell her great grandmother brought from Africa, hanging on Sam's shoe lace.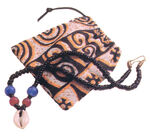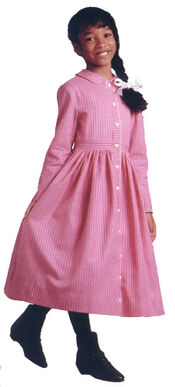 A girl's sized outfit was sold as the Striped Pink Dress for $75; a beaded cowry shell necklace was sold as Addy's Cowrie Necklace for $20. These were phased out around the year 2000.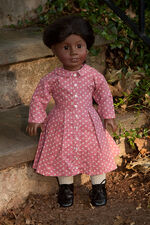 Pre-Mattel Addy dolls have thicker hair.
Mattel Addy dolls have lighter skin tones.
Trivia
The prototype of Addy's meet dress was released and is sometimes available for secondary purchase. It has the same cut as the released one, but has a small cream flower and dot print and a slightly darker, more mauve color.
In the 1990s, the water gourd was made of an actual gourd. After a crop failure, it was changed to plastic. It no longer has a cork stopper.
In the 1990s, Addy's cowrie shell necklace was a real cowrie shell on a length of leather cord. At some point, it was changed to a plastic replica of a shell on a woven cord.
Addy was the first doll released with the African American face mold, hence the fan nickname of "Addy Mold."