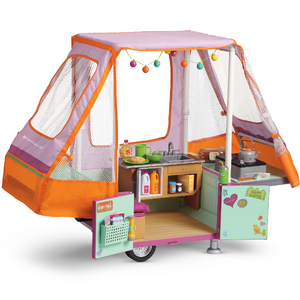 The Adventure Pop-Up Camper is a Truly Me accessory released in 2016. Retail cost is $185.
Camper
Lights
Stickers
Cushion
Flashlight
Pan
Kettle
Spatula
Plates
Cups
Bowls
Sporks
Bread
Peanut Butter
Jelly
Granola Cereal
Milk
Orange Juice
Juice Can
Pancakes
Syrup
Pasta
Pasta Sauce
Spaghetti
Magazine
Brochure
Ad blocker interference detected!
Wikia is a free-to-use site that makes money from advertising. We have a modified experience for viewers using ad blockers

Wikia is not accessible if you've made further modifications. Remove the custom ad blocker rule(s) and the page will load as expected.