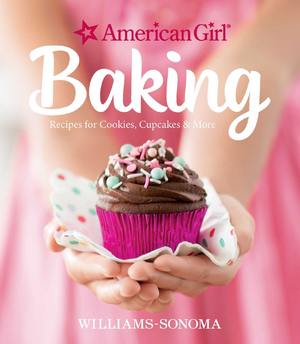 American Girl Baking is an American Girl cookbook made in partnership with Williams-Sonoma, connected to Grace's Collection, and released in 2015. Retail cost is $19.95.
Sections
Cookies
Thumbprint Cookies
Chocolate Whoopie Pies
Pinwheel Icebox Cookies
Snickerdoodles
Elephant Ears
Lemony Cookie Flower Pops
Chocolate Chip Cookie Sandwiches
Zesty Lime Cookies
Chewy Coconut Macaroons
Sugar Cookies
Chocolate Crinkle Cookies
Ice Cream Sandwiches
Madeleines
Orange Madeleines
Chocolate-Dipped Vanilla Madeleines
Honey Madeleines
Chocolate Madeleines
Cupcakes
Pumpkin Cupcakes
Devil's Food Cupcakes
White Chocolate and Raspberry Cupcakes
Sweet Lemony Cupcakes
Red Velvet Cupcakes
Strawberry Cheesecake Cupcakes
Carrot Cupcakes with Cream Cheese Frosting
PB and J Cupcakes
S'mores Cupcakes
Black Bottom Cupcakes
Snowball Cupcakes
Other Treats
Chocolate-Peanut Butter Brownies
Strawberry Shortcakes
Rocky Road Fudge
Banana Chocolate Chip Bread
Caramel-Glazed Blondies
Blueberry Turnovers
Lemony Berry Bars
Chocolate Truffles
Raspberry-Chocolate Tartlets
Easy Cheesecake Pie
Apple Oven Pancake
Chewy Crisp
Golden Layer Cake with Chocolate Frosting
See Also
Ad blocker interference detected!
Wikia is a free-to-use site that makes money from advertising. We have a modified experience for viewers using ad blockers

Wikia is not accessible if you've made further modifications. Remove the custom ad blocker rule(s) and the page will load as expected.