Home
Talk

21
2,945pages on
this wiki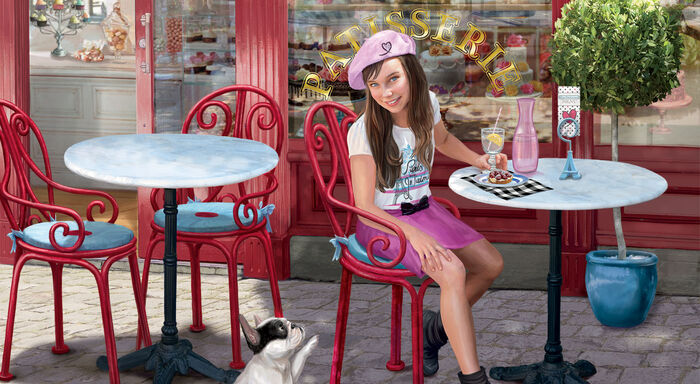 American Girl Wiki News
April 23rd, 2015 / Song of the MockingBird and Maryellen on the AG Publishing Site
American Girl's Publication site has shown a category under the BeForever column, showing the character name "Maryellen" (one word, no spaces) between Kit and Julie chronologically. Nothing is shown in the category when clicked on, but the shell of the page is visible. There is also the category "Truly Me" in place of "My American Girl." A screencap has been provided in the event American Girl edits the page to prevent leaks or questions.
The cover for Song of the Mockingbird: My Journey with Josefina has appeared on AG's Canadian distribution site, Georgetown Publications. This have been placed on the article's page.
Again, our Wiki does not accept leaked information that is not on official sites. So no pages or add ins (and certainly no images!) until this data is more solid.
--Nethilia, who you best not finna try
April 2, 2015 / American Girl Nashville grand opening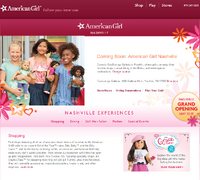 While the Nashville store page isn't present via American Girl's store search function, the page is live, with the grand opening set on the weekend of May 30 and 31.
A screencap on the right has been provided in the event American Girl takes the page down between now and whenever they feel like putting it back up again, probably closer to the scheduled dates.
--AkaiKaze, the Other Admin
ETA: It should be noted that Nashville's grand opening dates in May was first noted in a Wisconsin State Journal article with regards to staff layoffs. The same article also quotes that the AG store in Scottsdale is set to open sometime in August.
February 20, 2015 / Book Leaks -- Truly Me and BeForever Books
Several new books have shown both on the American Girl Publishing site [1] and Amazon.com. First are three new modern-focused books:
The books are due to be released May 2015. Along with new covers for some older craft books, this looks to be a revamping of the modern doll line, much like the switch to My American Girl. (Here at the Wiki we will still keep the category named how it is, due to the tedious tasks of redoing the category on every related page. We believe you're smart enough to know what is what.)
Josefina is finally getting her My Journey book, Song of the Mockingbird: My Journey with Josefina this August.
There have been leaks for three other books written by Valerie Tripp: The One and Only, The Sky's the Limit, and Taking Off. These look to be a new set of BeForever Character books; they are categorized on Amazon.com as set in the 1900s and to be released this August. While this is exciting news, we cannot tie these three titles to a BeForever Character or know details on the books and which is which. So please do not make articles about them yet.
Nethilia, Admin who doesn't like Rumors.
February 12, 2015 / New stuff for all lines save Grace
Every line save Grace got new items.
For Addy:
For Rebecca:
For Kit:
For Kaya:
For Julie:
For Samantha:
New Historical Character Mysteries for Samantha, Kit, and Caroline have been released:
Kit's Candy-Making Set, Rebecca's School Play Set, and Julie's Dance Set were broken into two separate sets: Kit's Springtime Outfit, Kit's Homemade Sweets, Rebecca's Butterfly Costume, Rebecca's Stage Makeup, Julie's Funky Flower Outfit, and Julie's Disco Accessories. Kaya's Jingle Dress of Today II was released without accessories as the Modern Jingle Dancer Outfit.
The My American Girl line got the following new items:
Bitty Baby got the following new items:
Bitty Twins got the following new set:
The same rules, as always, apply when it comes to new releases and articles: put some effort into writing your descriptions. We won't hesitate to remove poorly written edits or ban people who make repeated efforts into not putting effort into writing proper descriptions.
--AkaiKaze, the Other Admin
January 21, 2015 / "Personal Pictures" mean Personal, not someone else's.
Well, that came up, so now it's been addressed on Good Article Images and You!.
Do not take personal pictures from alternate sources such as eBay Auctions or other people's personal albums. Personal pictures must be taken by the uploader. Images found to be sourced to an eBay auction or other non-personal means will be removed. It's image theft. (The only noted and admin-approved exception at this time is the image on the American Girl 25th Anniversary Shirt as the item was given only to employees and so is quite rare.)
C'mon, people. Take the pics yourself. You know better.
Nethilia, Admin Who Can't Believe That Came Up
---
Older News
Helping Out
Not sure where to start?
Adding content
Talk and more...
Check out the community portal to see what the community is working on, to give feedback or just to say hi.
---
To write a new article, just enter the article title in the box below. Check to see if we have it first!

Hot Topic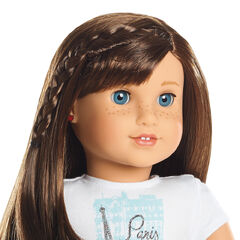 Hot Topic:
Grace Thomas

Grace Thomas is the Girl of the Year for 2015. She is an aspiring baker and entrepreneur from Massachusetts.
Her promotion includes a yearlong fundraising initiative from American Girl, "For Goodness, Bake!", to support Share Our Strength's No Kid Hungry campaign to end child hunger in America.
---
Read more about Grace on her article page!
American Girl In The News
Loading RSS data...
Please note that the American Girl Wiki staff does not collect or personally locate these news articles; they are pulled in by an automated RSS feed. The American Girl Wiki and its admins have no official opinion on any article seen here.
---
REFRESH