American Girl Wiki News!
August 25, 2016 / Melody Release Bundles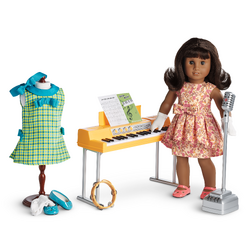 Three Melody Bundles with discounts have also been released:
Melody Doll and Performance Collection, $190 (from standard of $235, save $45): Melody's Fancy Floral Dress, Melody's Electric Piano, Melody's Microphone Set
Melody Doll and Block Party Collection, $240 (from standard of $296, save $56): Melody's Play Outfit, Melody's Table and Chairs, Melody's Block Party Set
Bedtime Collection, $225 (from standard of $287, save $62): Melody's Pajamas, Melody's Bed and Bedding, and Melody's Bedroom Accessories
Each comes with the Melody Ellison doll and No Ordinary Sound. These are only available through August 29th--the first five days of release.
Nethilia, The Admin
August 25, 2016 / Melody Ellison Arrives! (And the Holiday End of Year Releases)
After so much information coming out already, the day is here! Melody Ellison has now officially released, along with her collection:
Items were released for all major lines to complete the holiday releases, including BeForever characters:
For Maryellen Larkin:
For Julie Albright:
For Rebecca Rubin:
For Josefina Montoya:
Children's clothes based on characters:
For the WellieWishers:
For Truly Me:
For Bitty Baby:
Other books and items:
Give us your best on every article and enjoy the new stuff!
Nethilia, The Admin
August 24, 2016 / Upcoming American Girl Books
New books have been listed on Amazon.com, due in 2017
For the BeForever Historical Character Mysteries:
Three new WellieWishers books:
Finally, three books that, at present, sound like a potential rerelease of Felicity Merriman's Central Series:
As of right now there is very little detail on the last three books, other than two are by Valerie Tripp; however, the titles seem to lean towards a focus on Felicity. ETA, 8/27/16: Additional information on the descriptions shows a release date of February 2017 as well as the category of "Colonial", helping this lean towards a rerelease of Felicity's Central Series stories.
Remember, we don't do Rumors, so don't cause trouble.
Nethilia, The Admin
August 18, 2016 / Fall 2016 Sneak Preview
American Girl has released a sneak preview of new items that will be coming out August 25th with Melody's official launch.
Items shown include new outfits for Julie, Maryellen, and Josefina; new BeForever accessories for Maryellen around food; lots of items for both Truly Me and Bitty Baby, including playsets and accessories; and even a new winter set for the WellieWishers.
As usual, sneaks are not confirmations. We don't tolerate rumors and half facts.
Nethilia, The Admin
ETA: American Girl has also put up a preview of several items for Melody's collection, including clothes, furniture, and accessories.
August 6, 2016 / American Girl at Amazon.com
American Girl is now selling products through amazon.com. They have started with bundles for Maryellen Larkin, which became available August 1st.
There appear to be no discounts, but because of Amazon's free shipping after $50 of items there are no shipping charges. Do take note that other American Girl products sold on Amazon are not fulfilled by American Girl; many items listed are sold by secondary sellers at inflated prices.
Nethilia, The Admin
ETA, 8/23/16: The MegaBloks sets are also available.
August 4, 2016 / Gymnastics Bundle and Back-to-School/A+ Sale
A bundle for the Truly Me collection has been released, the "Gymnastics Star" Collection. This includes the Two-in-One Gymnastics Practice Outfit, Rhythmic Gymnastics Outfit, and Gymnastics Set for $115 (from original costs of $149, a savings of $34/22%). Adding any available Truly Me doll increases the cost to $205 (from $264, a savings of $59/22%). These bundles are available until August 8 and have free shipping.
There is also a sale--A+ Sale--through August 15th. This includes various Truly Me outfits, school-based Truly-Me Accessories, BeForever school outfits, BeForever accessories, craft kits, the Limited edition Mini Dolls, and various books and accessories.
Nethilia, The Admin
August 3, 2016 / AG Rewards Offer for Melody's AG Rewards Collection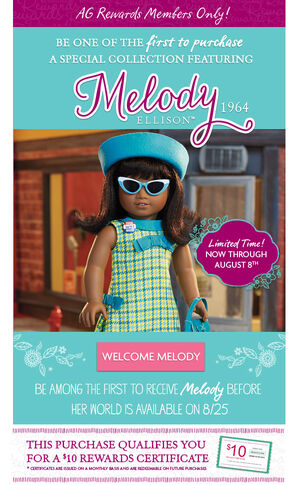 Customers that opted into AG Rewards before July 27th were, on August 1, offered a preorder to purchase Melody's AG Rewards Collection,, a unique starter collector for Melody Ellison costing $212. This includes the Melody Ellison doll along with the following items:
Items cannot be removed or adjusted online. The order has free shipping; furthermore, American Girl intends to ship orders in order to have the order arrive to purchasers on or before August 18th, a week before Melody's official debut on August 25th. (Purchases are only shipped and cannot be picked up in stores.) This is an offer only available to AG Rewards members that signed up before July 27th, and is only available through August 8th.
This does mean that there will be some people who will have Melody and some of her items before the official launch. However, quality doesn't change. Write well-written contributions for new or existing articles, give good detail pictures, and don't try to "first" this.
Nethilia, The Admin
July 28, 2016 / AG Rewards

Several weeks late with the news, but: American Girl has started a rewards program, aptly named AG Rewards, that rewards customers for their purchases with rewards. The program is free to sign up for. At its most basic, every dollar spent (minus taxes and/or shipping) is a point added to the account with a $10 reward coupon issued after 200 points (so $200 of puchases). Other exclusive offers are given as higher levels of points are reached in a year: Silver (0-349); Gold (350-699), and Berry (700+).
More information can be found on the website at A*G Rewards; details will be placed on the Wiki later on.
Nethilia, The Admin
July 12, 2016 / GOTY 2017, other book news
Amazon listings for Girl of the Year 2017 have appeared:
The author, Teresa E. Harris, is a woman of color and the books she has written have featured protagonists of color, so there is a possibility GOTY 2017 may be a girl of color.
There is a trio of books written by Kellen Hertz, who co-authored Lea and Camila with Lisa Yee:
The only information of note is that these three books appear to be targeting middle grade (ages 8-12) readers and seems to be an original series of contemporary fiction outside the GOTY line.
It bears repeating: this wiki has a zero-tolerance policy on rumors and speculation, and any form of rumormongering will get you banned.
--AkaiKaze, the Other Admin
July 7, 2016 / American Girl and Scholastic
Publishers Weekly reports American Girl and Scholastic have formed a partnership to publish both physical books and electronic books based on the BeForever and GOTY lines, starting in January 2017. This includes expanding upon and reissuing books for retired GOTY characters. A new line of historical nonfiction chapter books as well contemporary fiction from the forthcoming American Girl/Scholastic partnership is also in the works.
--AkaiKaze, the Other Admin
July 2, 2016 / New American Girl Boutiques
A glance through Mattel's Careers section reveals American Girl plans on opening several new Temporary Boutiques this year:
AG Indianapolis is also scheduled to reopen next week at Castleton Square Mall and operate until early 2017.
--AkaiKaze, the Other Admin
June 23, 2016 / WellieWishers, Truly Me, and Melody
The WellieWishers make their debut with their collection. Here is a rundown of what's available:
To promote the line's debut, all WellieWisher items are eligible for free shipping from now until July 31st. Furthermore, purchasing a doll and any small accessory set has a $5 discount, like 18" dolls.
The WellieWishers' three books will be released in September, though you can read previews on the WellieWishers portal on AmericanGirl.com.
The Truly Me line got a lot of new stuff:
American Girl has also made it a little easier to purchase a bald doll on their online store, though you will still need to call their customer service department to start the process.
Bitty Baby got only two outfits:
The BeForever line got nothing, though Melody's second volume and My Journey Book is now available, which means you can now get Melody's 3-book set if you held out on the first volume (or trade in the first book against the cost, if you just couldn't wait). The doll and her collection will be released in August this year.
It also appears that the Bitty Twins are on their way to retirement as related outfits and accessories are gone and only the dolls remain purchasable at the time of this writing. ETA: It has been confirmed that the Bitty Twins are now retired. Fare thee well, Bitty Twins.
No matter how exciting it is to see new items from American Girl, the rules of the wiki are the same: write well-written contributions for new or existing articles, and if someone comes in and removes or edits your work, don't be a drama queen. We don't tolerate poor writing or behavior, and if something needs to be debated, use that article's talk page.
--AkaiKaze, the Other Admin
June 17th, 2016 / Lea Collections and Free Shipping
With the release of Lea's movie Lea To the Rescue, new bundles have been released. Each of these include the BluRay/DVD bundle of Lea To the Rescue.
There is also free shipping on all items in Lea's collection. This started June 14th and will continue through June 20th; free shipping on the movie is through the end of the year.
Nethilia, The Admin
June 16th, 2016 / WellieWishers Release Date and Final Character Name Confirmations
American Girl has released a preview for the WellieWishers line. The launch weekend is June 23-26th at all American Girl stores, and June 23 at the website, giving a short launch time. and included examples include additional outfits, playsets, and girl sized clothing based on the five main characters, including clear wellies (rainboots) and socks.
What does this bode for the release of Melody? So far, it's likely she'll be later this summer. As for the Bitty Twins, no information on their remaining is available at this time. We don't rumor mill, folk.
ETA: A prerelease article from Good Housekeeping has confirmed each of the WellieWishers; the last two are:
Kendall is the Black girl.
Camille is the blonde haired White girl.
Nethilia, The Admin
---
Older News
Helping Out
Not sure where to start?
Adding content
Talk and more...
Check out the community portal to see what the community is working on, to give feedback or just to say hi.
---
To write a new article, just enter the article title in the box below. Check to see if we have it first!

Hot Topic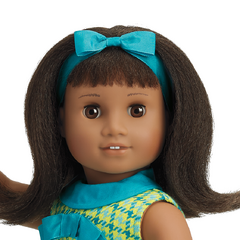 Hot Topic:
Melody Ellison

Melody Ellison is the newest character in the BeForever line up. Representing the Mid 20th-Century Civil Rights movement, she hails from Detroit Michigan and loves to sing and lift her voice.
---
Read more about Melody Ellison on her article page!
American Girl In The News
Loading RSS data...
Please note that the American Girl Wiki staff does not collect or personally locate these news articles; they are pulled in by an automated RSS feed. The American Girl Wiki and its admins have no official opinion on any article seen here.
---
REFRESH