American Girl Wiki News: Read All About It!
February 19, 2018 / February New Release!
Happy Monday! New things have released.
For BeForever characters Maryellen Larkin and Nanea Mitchell:
New Books:
A new Molly McIntire mini doll has also released with her books.
For Bitty Baby:
New MegaConstrux sets:
Other books: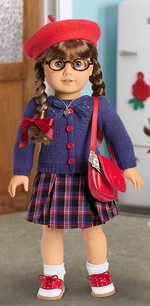 ETA: American Girl has released a informational page about Molly McIntire. This originally included an image of what is plausibly the Beforever version of the Molly doll, which has been posted to the side; this was later removed and replaced with an image of the doll in the Classic outfit.
Nethilia, The Admin
February 16, 2018 / AG Seattle and Scottsdale to Close Bistros to Casual Dining
A recent layoff of staff announced in January through American Girl has affected the American Girl Places at AG Seattle and AG Scottsdale. Basically, both bistros will close to regular dining reservations starting February 23rd. However, party hosting will remain available.
Nethilia, The Admin
February 8, 2018 / More New Books
New Book titles found via Scholastic:
Nethilia, The Admin
January 30th, 2018 / New Books, Another Contemporary, the Molly Mini Doll, and An Announcement On Spamming
Many books titles have been listed on Amazon.com and the AG Publishing site.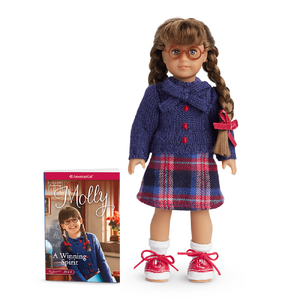 Two books listed as American Girl: Contemporary MG Series 3 by Erin Falligant have been listed on Amazon with a release date of June 2018. No information on the character or any potential product releases have been announced.
A new series by Crystal Velasquez, Forever Friends has appeared; it appears to be focusing on a group of girls who work with various animals, dominantly at an animal shelter. The first two are scheduled for April release, with the third in September.
Two more books in the Like Sisters book series are listed:
Other new books include the activity books Doll STEM, an updated Doll Travel, Smart Girl's Guide: Sports and Fitness, and Smart Girl's Guide: Knowing What to Say.
*~*~*
A recent new user was banned indefinitely for massively spamming a link to an offsite page that had nothing to do with the Wiki project or information about the brand; it was clear the account was created for the sole purpose of spamming a link repeatedly to an offside petition.
The Administration--that's me, AkaiKaze, and Blakegripling ph--would like to remind all users that personal offsite links (including but not limited to personal blogs, petitions, Youtube channels, personal social media, forums, etc.) are limited to a user's personal pages in limited capacity. Article links should only link offsite for factual, informational purposes (such as the link showing a brand of eyes in the Eye Swapping article, the patterns information, an author's personal website on their article, or real-world examples of accessories) and will be vetted for relevance and removed if irrelevant.
Offsite links do not include sites such as Wikipedia--which is integrated into Wikia code and used as an additional cross-informational resource--Amazon or other retailers in news and informational links, news articles, or the American Girl direct social media sites for informational/confirmation purposes. However, do not link to the main site for most things such as games, product data, or informational data unless it is reliably liable to remain (such as the Archives). The AG website updates regularly and old data is removed frequently. (After all, the site has been up since 2000. It's gone through thousands of changes and removals, from games to characters to items.) It's the admin's call on what constitutes an unvetted off site spam link, and our word is final.
Any personal, unvetted, offsite links spammed or linked in articles that show blatant disregard for the purposes of the Wiki--as the spammer did--will result in blocks, up to and including a full ban. I normally wouldn't say anything about it because it's just drawing attention to bad behavior, but after reverting well over a hundred different articles that were spammed/damaged with this petition, I believe said spammer should be ashamed of themselves for their actions and wasting time and resources. They should have known better. Don't Do What Danny Banned Does.
Nethilia, The Admin
January 5th, 2018 / AG St. Louis Location to Close
The American Girl Place location in Chesterfield Mall will be closing in February 2018. (source). American Girl is citing closing the store "based on the current challenges facing the mall property, which have adversely impacted our store's business." It is unknown if another Missouri location will open.
Nethilia, The Admin
January 1st, 2018 / Luciana Takes Off!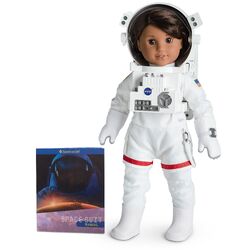 Luciana Vega launched today--fitting, for a character who aspires to be the first girl to go to Mars. The doll and her collection take off (get sick of my space puns later) with the following:
Notably, Luciana's Space Suit can only be purchased right now by AG Rewards members, until August. So if you can sign up, do it!
This includes a new modern mix and match set, based on the sea theme:
Tenney Grant adds to her collection with:
The WellieWishers also have a lot new for them:
Gabriela's Collection remains available (minus the recently sold out loft bed), so she's not retired yet. Don't mark anything gone of hers yet!
Leave the nonsense of mis-done descriptions and bad linking and being anything less that the best back in the past, or we'll punt you all the way to Alpha Centuri.
Nethilia, The Admin (Mars and Bars and Super Stars)
December 31th, 2017 / Wiki Code and You
I've seen it too many times in too short a time recently that people are miscoding internal article links. When you're linking to another article, wiki internal article link code should be used. The
They are coded [[Article Title|linked like this]] (wikicode),
and not [http://www.long-whole-url-of-wiki.com/wiki/Article_Title like this] (which should only be used for linking to off-wiki pages.)
Double Brackets. Vertical line to make the change to text if needed. Not the entire URL in the browser window. Only use the off wiki link code for links that go off the Wiki. (Wikipedia refs are done using [[Wikipedia:Article name on Wikipedia|text goes here]].)
There will be three day blocks if this is done by anyone. The Sandbox is there to see how codes are used before edits are done, and I just added info about coding link. Editor time is wasted fixing this repeatedly. Consider this the official warning.
Nethilia, The Admin
December 28th, 2017 / Luciana Vega, Girl of the Year 2018
On Good Morning America today, Luciana Vega was officially announced as the 2018 Girl of the Year. Luciana Vega's collection focuses on STEM (Science/Technology/Engineering/Mathematics), including a large emphasis on space travel and exploration.
The admins understand the excitement over the new Girl of the Year, and articles have already started to be rolled out; we will post about all that is available on January 1st. However, no articles should be attempted fully until release, and we require high quality descriptions and discussions. Secondly, Gabriela appears to continue to be available for some time into 2018, so please do not mark her or her collection as retired until it is clear she has been discontinued.
Also some new items have released in the stores, but again we will be discussing these on the 1st when we have clean pictures.
Nethilia, The Admin
November 20th, 2017 / Rumors, Leaks, and Hearsay - Don't DO It!
It's the time of year where rumors about new products, especially new Girls of the Year, start leaking. And it's that time where people might be tempted to post unconfirmed details on characters that might be coming out. So the Administration is taking this moment to reiterate the policies against rumors, leaks, and hearsay.
American Girl is an active business with constant new items. There are regular releases, re-releases, new items, new characters, new books, and/or new details. This means that leaks happen often, especially when people obtain items early or off online auctions from secondhand sources. However, we here at the A*G Wiki has made it our policy to not allow any information on any topic from any non-legitimate sources. The only information we accept are from sources that can be verified.
Images, names, and descriptions of characters and products found through searches across the internet--even if they are likely legitimate direct stock images--that are posted by anyone other than AG or press releases by AG are not verified. Until AG themselves release the images or names, they are not verified. We here at the A*G Wiki respect the company enough not to show images or start articles about characters that they haven't openly released yet.
Violate this rule even once and you'll have a six-month block the first time. We're not going to play nice. Be patient or we'll make you be patient.
Nethilia, The Admin, Isn't Gonna Let Leaks Go
November 14th, 2017 / Berry-Level Gift, 2017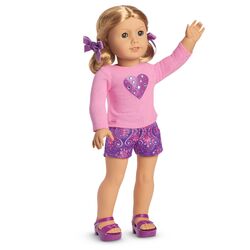 This year, as a reward to Berry Level Members of the AG Rewards programs, American Girl is offering a free outfit. Members must have achieved Berry Level by October 31, 2017. Users must log into their account or call Customer service and, using a unique code, may select from the following outfits:
The order must be placed from November 14 to November 30th. Only one outfit may be purchased for free per household per account. The order includes free shipping in the continental US (as long as not bundled with any other purchase). It is unknown if these outfits will be allowed for open purchase at a later time. The outfits cannot be returned or exchanged later.
(On another note we missed, Canadian users are no longer able to have AG Rewards accounts; Any non-US accounts were closed by Oct 9th.)
Nethilia, The Admin, Qualifies for Free AG Stuffz
---
Older News

New Product Spotlight
Take a peek at Luciana's Mars Habitat!

Luciana's Mars Habitat simulates the kind of living space that could be used on Mars.
---
Read more about this item on the article page!

Consider the Following...
---
Explore The Wiki for More Facts and Trivia!

Table of Contents
Dolls
Fandom, Collecting, and Other AG Services
---
See all pages

Helping Out on the Wiki
Not sure where to start?
Adding content
Talk and more...
Check out the community portal to see what the community is working on, to give feedback or just to say hi.
---
The Admins are Here to Help!

American Girl In The News: RSS
Loading RSS data...
Please note that the American Girl Wiki staff does not collect or personally locate these news articles; they are pulled in by an automated Google RSS feed. The American Girl Wiki and its admins have no official opinion on any article seen here.
---
REFRESH