Home
Talk

21
2,853pages on
this wiki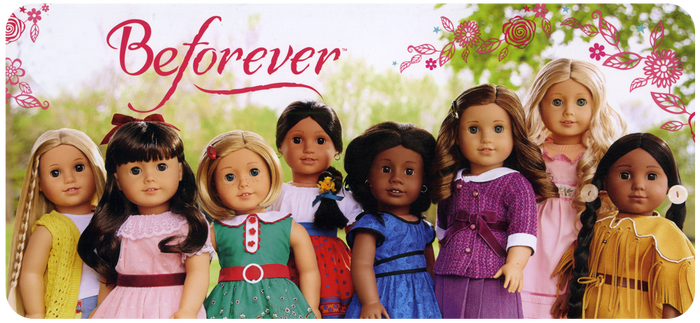 American Girl Wiki News
December 1, 2014 / Another day, another leak...
Images of what appears to be a meet book, and more recently, a mini doll, for GOTY 2015 have surfaced on the interwebs. It does look authentic and all, but before you lads and lasses jump the gun and upload images and/or other speculation here on the wiki, please be reminded that we CANNOT accept leaked images or info about beta or pre-release media unless in certain circumstances. We don't want AG or Mattel to lay the hammer on us, right?
--Blake, the Gruppenführer (well, sort of)
October 30, 2014 / American Girl in Mexico City
American Girl announced on Facebook three Specialty Boutiques will be opening at El Palacio de Hierro in Mexico City in summer 2015.
--AkaiKaze, the Other Admin
October 16, 2014 / Holiday Releases and Free Shipping
The holiday releases for My American Girl, Bitty Baby and the Bitty Twins came out on October 9th, as well as one last item for Isabelle's collection.
For My American Girl:
The current Purchase With Purchase at American Girl Place is the Sparkle Bow Sweater and Headband.
For Bitty Baby:
For the Bitty Twins:
Also, until 11/25/14, get free shipping on an order of $100 or more with the code "BESTGIFT".
--Nethilia, admin
September 17th, 2014 / Free Shipping and Classic Meets
Use the code CELBRATE through September 22 to get free shipping on any order $50 or more.
The older Meet Outfits for Addy, Julie, Rebecca, Josefina, and Kit are currently available through American Girl, sans any hair accessories. These have been listed here and through American Girl as "Classic Outfits."
--Nethilia, admin
September 3, 2014 / American Girl Charlotte grand opening and American Girl store in Hawaii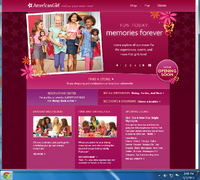 The Charlotte Business Journal reports American Girl Charlotte has its grand opening scheduled on October 11.
American Girl themselves seem to have plans to open a store in Hawaii as the post announcing a location's store mentions Hawaii, after Charlotte and Orlando, on the American Girl Stores' page, as seen in the accompanying screencap. This may be just a mistake or a possible unintentional leak on their part - unless an independent, verifiable third-party source is found or American Girl confirms it through any of their official channels (Facebook, Twitter, YouTube announcement), a possible store opening in Hawaii remains just a rumor.
--AkaiKaze, the Other Admin
UPDATE, 9/4/14: The Hawaii store has now been confirmed: American Girl opening first Hawaii store at Ala Moana Center next month The Hawaii store is a temporary boutique to test the waters in the Honolulu market and determine if a permanent location will do well. At present, the store is due to be open from October 4, 2014 through April 2015.
--Nethilia, admin
August 28, 2014 / BeForever Launch
BeForever has now launched officially! Samantha Parkington has been released from the AG Archives, and she and the current Historical Characters have received all new books and items, including new meet outfits and accessories for Addy Walker, Julie Albright, Rebecca Rubin, Kit Kittredge, and Josefina Montoya. All the new meet outfits are currently available separately, along with inspired modern outfits for girls.
For Samantha:
The Lacy Parasol from Marie-Grace and Cécile's collection became part of Samantha's Collection.
For Kaya:
For Caroline:
For Josefina:
For Addy:
The Crinoline and Chemise from Marie-Grace and Cécile's collection became part of Addy's Collection.
For Rebecca:
For Kit:
Kit's Typewriter Set was rereleased.
For Julie:
All the Mini Dolls have been changed to all-vinyl.
American Girl will be inspiring an episode of Project Runway on September 18th, 2014.
Even in excitement, we expect maturity, accuracy, and proper respect in all our BeForever articles. Don't get blocked for bad descriptions and articles!
--Nethilia Admin
August 21, 2014 / Girl of the Year 2015 update
Amazon has listed a third book for GotY 2015 - however, it has a May 2015 release date. This marks a departure from Isabelle's release as her three books were released simultaneously.
July 31, 2014 / Girl of the Year 2015
Amazon has listings for Girl of the Year 2015:
It appears GotY 2015 will have a culinary theme to her collection and she is from Massachusetts. Mary Casanova is the author of both books. It need not be said this wiki has a zero-tolerance approach to speculation/leaks of any sort.
--AkaiKaze, the Other Admin
---
Older News
Helping Out
Not sure where to start?
Adding content
Talk and more...
Check out the community portal to see what the community is working on, to give feedback or just to say hi.
---
To write a new article, just enter the article title in the box below. Check to see if we have it first!

American Girl In The News
Loading RSS data...
Please note that the American Girl Wiki staff does not collect or personally locate these news articles; they are pulled in by an automated RSS feed. The American Girl Wiki and its admins have no official opinion on any article seen here.
---
REFRESH