American Girl Wiki News!
May 23, 2016 / More on the Wellie Wishers and New Books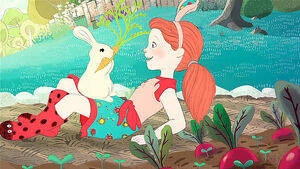 More information has been released on the Wellie Wishers, including that the name of the line may possibly be all one word (but this has not been confirmed). Three book titles have been released: Ashlyn's Unsurprise Party, The Muddily-Puddily Show, and The Riddle of the Robin. The books show a publication date of September.
Names have also been confirmed for at least three of the characters by the book descriptions and illustrations.
Willa is the red headed white girl.
Ashlyn is the tan brown-haired girl whose race is currently unspecified.
Emerson is the East Asian appearing girl with black hair.
Camille and Kendall have yet to be fully confirmed.
Nethilia, The Admin
ETA: Also showing on Amazon.com are two more overarching books:
Apr 28, 2016 / Small Mid-Spring Release
A small early spring release completes Lea's collection and adds to the Truly Me and Bitty Baby Lines.
For Lea's Collection:
For girls (inspired by Lea's collection):
For the Truly Me line:
For Bitty Baby:
Books:
Still nothing for the Bitty Twins, and nothing for BeForever at present.
Nethilia, The Admin
---
Older News
Helping Out
Not sure where to start?
Adding content
Talk and more...
Check out the community portal to see what the community is working on, to give feedback or just to say hi.
---
To write a new article, just enter the article title in the box below. Check to see if we have it first!

American Girl In The News
Loading RSS data...
Please note that the American Girl Wiki staff does not collect or personally locate these news articles; they are pulled in by an automated RSS feed. The American Girl Wiki and its admins have no official opinion on any article seen here.
---
REFRESH