Home
Talk

21
2,672pages on
this wiki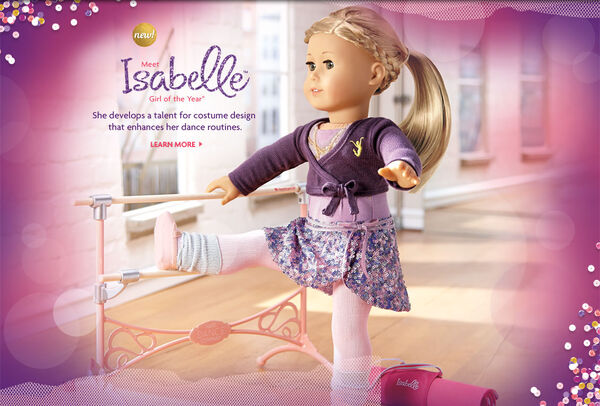 American Girl Wiki News
February 21, 2014 / Leaks, leaks and MORE leaks
A certain Chinese blogger has posted beta pictures of what seems to be a possible 1950s historical, along with her wardrobe. I know you lads and lasses are either excited or eager to get them in the future and would like to spread the news about it, but keep in mind that these are leaked images, and as such are not allowed here on the wiki. We don't tolerate any speculation, and of course we don't want AG to go bonkers on us, so don't even think about uploading them here, comprende?
--Blake, Gruppenführer
February 17, 2014 / The Return of Samantha
The official American Girl Facebook has announced that this fall, Samantha will be re-released, along with some new changes for the Historical line. As of this time we don't know anything else or if Nellie will be accompanying her. No speculations, please.
February 13, 2014 / New Spring Things
New things have come out for both Historical Characters, moderns, and the babies today!
For the Historical Collections:
The following are being advertised as limited edition sets:
For My American Girl:
Books:
For Bitty Baby:
For Bitty Twins:
February 7, 2014 / AG Store coming to Tennessee
January 1, 2014 / Isabelle's Launch
Isabelle Palmer has now officially launched out, along with the first parts of her collection:
And in a new first: rather than only specific outfits, they're pushing a mix and match option where the buyer can select components they want. This includes:
For My American Girl a few new things have launched:
The Charm-Keeper Necklace that was previously only available with a new doll has been released as available separately.
For Bitty Baby there's the release of the book Bitty Baby Has a Tea Party along with new items:
And for Bitty Twins:
Meanwhile some things have been retired.
A new year and yet there's old tricks. Excitement doesn't mean you can't do things right and follow the rules. If you don't behave, we'll block you.
--Nethilia Admin and Rule-Enforcer
December 18, 2013 / All Sold Out, and Isabelle Rumors
Molly and Emily have sold wholly out; Emily's Accessories and some girl sized items still exist, but will likely be gone soon enough. 27 years of acceptable service, Molly. Saige is still somewhat in stock as well as some of her items, but you'd better get anything by December 31st because after that it officially shuts down.
News is coming out that has Isabelle's last name. However, we'll want to wait for a official press release from AG direct, as that is the most accurate information. Plus, it looks better and more professional to wait for official releases of data. Remember, we strive to be professional and mature around here. Once official data is out, we can properly document what is needed.
--Nethilia Admin and overall bossypants
December 3, 2013 / Goodbye, Molly
Molly has officially sold out as of December 3, 2013. Eight outfits/accessories still remain (bed and bedding, floral pajamas, Christmas dress, polka-dot outfit, birthday dress, Miss Victory costume, and schoolbag set). Emily is still available alongside her dog, though most of Emily's outfits and other accessories have since sold out.
--AkaiKaze, the Other Admin
---
Older News
Helping Out
Not sure where to start?
Adding content
Talk and more...
Check out the community portal to see what the community is working on, to give feedback or just to say hi.
---
To write a new article, just enter the article title in the box below. Check to see if we have it first!

Hot Topic
Hot Topic:
Isabelle Palmer

Isabelle Palmer is a dancer and designer from Washington, DC. She is the first Girl of the Year to have three books and a mix and match component to her collection.
---
Read more about her on the article page!
American Girl In The News
Loading RSS data...
---
REFRESH