American Girl Wiki News!
May 22, 2017 / No More "Permapanties"
In what can be seen as a move similar to the history of New Coke and the Windows 8 start screen, American Girl has decided to discontinue the permanent underwear that had started to be released on Truly Me dolls (and would have been released on three of the BeForever Characters), following several weeks of fan backlash and complaint. This was officially announced on the American Girl Facebook page, along with information that the most recent "boutique-style" box design would be reinstated (though it will remain for Contemporary Characters and through some of the Truly Me dolls until stock is depleted).
Existing doll inventory with permanent sewn-in underwear will still be available in stores until stock runs out. Any customers who have previously purchased dolls with permanent underwear can opt to have their dolls reverted to the old body design with a one-time no-cost exchange through American Girl (instructions here).
May 10, 2017 / First Book in the Like Sisters Series
The cover of a book in the "Like Sisters" series, Like Sisters: Emma Moves In was released today on Amazon, as well a a light summary. As of right now no further information is available about future books or items in the series (though the book being numbered #1 implies future books). The book is set for release this August.
Nethilia, The Admin
April 27, 2017 / Z's Release (Plus Extras)
Z Yang and her collection have released:
Tenney's third book, Tenney Shares the Stage, and Gabriela's second book, Gabriela Speaks Out also released today, as well as her craft book, Express Yourself With Gabriela.
For the WellieWishers, the books released are The Mystery of Mr. E and The Rainstorm Brainstorm. (WellieWishers books are now also available in three-book sets.)
Advice books released are School Rules! Writing, School Rules! Projects, and A Smart Girl's Guide: Getting It Together.
Nethilia, The Admin
April 18, 2017 / Z on Chapters
Z's initial collection has debuted on Chapters (a Canadian American Girl seller). Here at A*G Wiki, we would like to wait for the formal release through American Girl in about a week before any descriptions go up.
Nethilia, The Admin
April 12, 2017 / Nanea Book Titles
The titles of Nanea Mitchell's Central Series books have appeared on Amazon:
There are also brief summaries of each book.
Nethilia, The Admin
April 10, 2017 / 25% off BeForever Items
From April 7th until 19th, select items in the BeForever collection are 25% off through the American Girl website and at AG stores. This does not include any recent releases.
Nethilia, The Admin
March 6, 2017 / Buy One Get One 1/2 Off Select Outfits; Ivy and Julie 1976: A Happy Balance Trailer
From now until March 31st, select outfits are available for Buy One Get One 1/2 off through the American Girl website and at AG stores. The discount is applied to the lower cost outfit and applied at checkout. Outfit include Historical outfits, Truly Me sets, and a few available outfits from Lea's Collection.
Also, the trailer for Ivy and Julie 1976: A Happy Balance can be seen on YouTube. The special will be available March 24th through Amazon Prime only.
Nethilia, The Admin
---
Older News

Helping Out
Not sure where to start?
Adding content
Talk and more...
Check out the community portal to see what the community is working on, to give feedback or just to say hi.
---
To write a new article, just enter the article title in the box below. Check to see if we have it first!


Hot Topic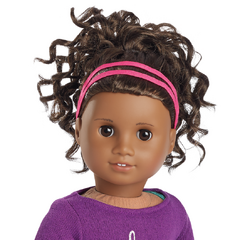 Hot Topic:
Gabriela McBride

Gabriela McBride is the Girl of the Year for 2017. She is from Philadelphia and the first black Girl of the Year since the line's inception in 2001. She is also the first Girl of the Year since Kailey to be available for longer than a year!
---
Read more about Gabriela McBride on her article page!

American Girl In The News
Loading RSS data...
Please note that the American Girl Wiki staff does not collect or personally locate these news articles; they are pulled in by an automated RSS feed. The American Girl Wiki and its admins have no official opinion on any article seen here.
---
REFRESH
Ad blocker interference detected!
Wikia is a free-to-use site that makes money from advertising. We have a modified experience for viewers using ad blockers

Wikia is not accessible if you've made further modifications. Remove the custom ad blocker rule(s) and the page will load as expected.