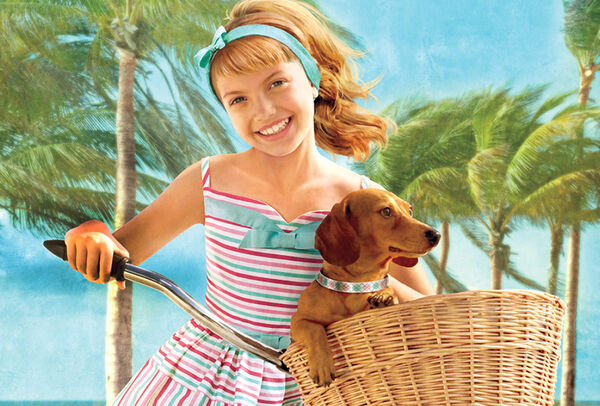 American Girl Wiki News
Sept 15, 2015 / New Temporary Store Locations
Craigslist hiring ads (example) has leaked that several temporary American Girl place locations are opening nationwide. The locations discovered so far are:
Fashion Valley Mall in San Diego, CA
The Shops at Mission Viejo in Orange County, CA
The Americana at Brand in Glendale, CA
Pioneer Place in Portland, OR
Fashion Show Mall in Las Vegas, NV
Fashion Place in Salt Lake City, UT (Murray, UT)
Castleton Square Mall in Indianapolis, IN
These are likely to be similar to the Hawaii Location, and only stay open for a limited time.
Nethilia, Admin not for hire
August 27, 2015 / New things for every line, unless you're a Bitty Twin
After many, many leaks, Maryellen finally makes her BeForever debut. If you still haven't gotten Caroline, you should probably stop reading this and go get her right now.
For Truly Me:
Some people-sized gear are also available:
Aside from Maryellen, the Bitty Baby line got a major refresh, with not one, but three new meet outfits (bolded) that come with a code for a free song download. There is also a new, red-haired, hazel-eyed doll, and several dolls were retired.
Bitty Twins get nothing, they lose this round, cue the losing horns.
Seeing that I already had to temporarily lock the both Maryellen doll and the Maryellen character articles prior to her release because of people being too impatient for her product page to appear on the online store, and having seen a rather disturbingly high number of poor edits in the past month, it goes without saying: Write and edit properly or get your contributions deleted. Keep it up and don't be surprised if you get banned.
--AkaiKaze, the Other Admin
ETA, 8/29/2015: Some things were added for Josefina and Rebecca as well, but no one else. Rebecca's Costume Chest returns without the trunk as Rebecca's Costume Set. Josefina gets her own hair-styling set, her updated mini doll, and her My Journey book, Song of the Mockingbird: My Journey with Josefina.
Nethilia, Admin
August 24, 2015 / GOTY 2016 on Amazon, BeForever 2016 as well
Amazon has put up listings for GOTY 2016 with the following book titles.
The author for the first two books is Lisa Yee, who previously wrote Good Luck, Ivy and Kanani's books, and GOTY and Camila is co-written between Lisa and another author, Kellen Hertz, so there is a possible chance GOTY 2016 may be a girl of color. All three books have Sarah Davis as the illustrator.
The only info that can be found is in GOTY and Camila is GOTY 2016's city and state may be St. Louis, MO. There is no way to tell at this time which of the other two books is the meet book or what other themes GOTY 2016's stories may focus upon.
While there have been some substantial leaks on the Internet over the past few months, GOTY 2016's articles will not be created until December when more info is available. This wiki does not tolerate unconfirmed leaks or rumors.
--AkaiKaze, the Other Admin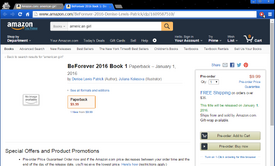 UPDATE: There is also a listing for a BeForever character book written by Denise Lewis Patrick supposedly releasing on January 1, 2016. While American Girl confirmed a while back a new BeForever character would be released in 2016, in light of Maryellen's pending debut, the release date for the book should be taken with a grain of salt. A screencap has been provided in the event the listing goes down.
August 11, 2015 / Maryellen leaks
Some enterprising (or perhaps impatient) fan managed to find product pages for Maryellen's Collection earlier today on AG's online store, and unsurprisingly AG has since pulled the links down.
Unlike Grace's second release earlier this year in which her product pages appeared a few days prior to release and AG let it slide, AG clearly did not intend for Maryellen's pages and images to be live on the store at this time. While we do have the article titles set up for Maryellen's collection, the articles themselves will not be created until Maryellen is released. Also, anyone caught uploading leaked images will be banned. The last thing anyone wants on this wiki is to be in legal trouble with American Girl.
--AkaiKaze, the Other Admin
August 3rd, 2015 / Maryellen Debut, Scottsdale Opening, and Sales
Data on the American Girl site shows debut activities in stores starting August 27th through the 30th, helping to solidify that August 27th will be her official release.
The Scottsdale American Girl Bistro and Boutique Grand Opening has been confirmed for Aug. 22-23.
A current sale on American girl items on the site has up to 40% off select items, including select Caroline items, Fashion Show exclusives, and straggling Isabelle items.
The American Girl publishing site has revamped, with more detail on Maryellen's books and Mini doll. Notably, pre-orders for her two Central books and the Journey book books on Amazon.com are available and up to half off.
Nethilia, Admin
---
Older News
Helping Out
Not sure where to start?
Adding content
Talk and more...
Check out the community portal to see what the community is working on, to give feedback or just to say hi.
---
To write a new article, just enter the article title in the box below. Check to see if we have it first!

American Girl In The News
Loading RSS data...
Please note that the American Girl Wiki staff does not collect or personally locate these news articles; they are pulled in by an automated RSS feed. The American Girl Wiki and its admins have no official opinion on any article seen here.
---
REFRESH