American Girl Place
Talk

2
2,852pages on
this wiki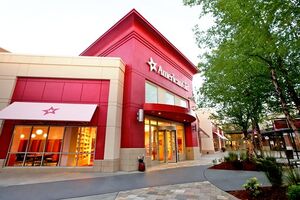 American Girl Place is a physical retail location where American Girl products can be purchased in person.
Specifically, American Girl Place is the name for the three largest American Girl stores in Chicago, New York and Los Angeles. The other stores are referred to as American Girl Boutique and Bistro[1] and international outlets are referred to as American Girl Specialty Boutique.
Each store has well decorated displays of dolls, outfits, accessories and items and purchases can be made directly. It is marketed as an "experience" rather than a regular store by the company.
Activities
While there is plenty of shopping that can be done, other activities help round out the experience.
Theater: A small theater show could be seen here. Shows have included Circle of Friends and Bitty Bear's Matinee: The Family Tree. The theaters were all removed in 2008.
Cafe: A restaurant serving brunch, lunch, tea, and dinner. The menus are preset (with Seattle as the exception, their menu is a-la-carte). A person can use a doll chair to prop their doll up at the table with them; if a doll has not been brought, there are "loaner" dolls that can be used. AG Denver and Kansas City do not have cafes.
Personal Shopper: Personal shoppers are store employees that allow a person to shop in personal comfort in a private room. They will bring items to you and let you make the purchases without having to wait in line. Many personal shoppers will give extra gifts as well. The private rooms are only available in Chicago, Los Angeles and New York. The Boutiques offer personal shopping in their stores but not in a private room.
American Girl Hospital: If a doll needs to be sent to the American Girl Hospital, she can be sent from here and shipped back home.
Photo Studio: A picture can be taken which is then modified to look like a cover of American Girl Magazine. Not available in Boutiques.
Doll Salon: A doll can get a hairstyle chosen from a sheet. The doll will have her hair brushed and styled with hair accessories that can then be kept. Each hairstyle costs about $10-$20. Deluxe styles are available for $25 and include an extra hair accessory (such as a sparkly comb-style tiara in the Birthday Crown style). Ear Piercing is also available and includes the Silver Earring Set and a duplicate pair of star earrings.
Creativi-tees: T-shirts that can be made in the store. Shirts are offered in doll and girl (7-20) sizes in pink, white, and blue (periwinkle); girls' t-shirts are short-sleeved only with a small square for applying the decal, while doll tees can be both short and long-sleeved. Purchasers may choose from up to twenty decal designs, and observe the design being pressed onto the shirt. Not available in Los Angeles.
American Girl Exclusives: Each location has exclusive items that can only be purchased in the stores. These mostly consist of specific clothing and accessories for dolls as well as items that are used at the locations. Many shirts have the name of the stores on them. See the List of American Girl Place Items.
Party Hosting: Parties can be hosted for a length of ninety minutes. These include craft making, dinner, and a party activity. They take place in a private Dining Room.
Occasionally, activities will be advertised as weekend experiences; these are mostly small craft activities or paid events hosted in the private dining room.
American Girl Place
Chicago, IL: The first American Girl Place opened in Chicago, Illinois, in 1999 and moved to Water Tower Place in 2008. This was the first time items could be purchased new directly from a walk-in location.
New York, NY: A second store was opened in New York City, New York, in Manhattan 2003.
Los Angeles, CA: A third store was opened in the Grove in Los Angeles, California, in 2006.
Boutiques and Bistros
In Fall 2007, two American Girl Boutiques and Bistros were opened, starting a trend of smaller stores in some locations. Unlike American Girl Place, these locations do not have a photo studio.
Dallas, TX: American Girl Dallas was opened in 2007 and is a flagship store of the Galleria.
Alpharetta, GA: American Girl Atlanta was opened in 2007 at the North Point Mall.
Natick, MA: The American Girl Boston was opened in 2008 at Natick Collection.
Bloomington, MN: The American Girl Minneapolis was opened in 2008 at the Mall of America.
Lone Tree, CO: American Girl Denver was opened in 2010 at Park Meadows. This store does not have a bistro.
Overland Park, KS: American Girl Kansas City was opened in 2010 at Oak Park Mall. This store does not have a bistro.
McLean, VA: American Girl Washington DC was opened in 2011 at Tysons Corner Center.
Lynnwood, WA: American Girl Seattle was opened in 2011 at Alderwood Mall. The bistro is the only one that offers items à la cart.
Chesterfield, MO: American Girl St. Louis was opened in 2012 at Chesterfield Mall.
Houston, TX: American Girl Houston was opened in 2012 at Memorial City Mall.
Miami, FL: American Girl Miami was opened in 2012 at The Falls.
Columbus, OH: American Girl Columbus was opened in 2013 at Easton Town Center.
Palo Alto, CA: American Girl San Francisco was opened in 2013 at the Stanford Shopping Center.
Orlando, FL: American Girl Orlando will open a store at The Florida Mall in Autumn 2014.[2]
Charlotte, NC: American Girl Charlotte was opened in 2014 at Southpark Mall.
Franklin, TN: American Girl Nashville will open a store at CoolSprings Galleria in Spring 2015. [3]
Scottsdale, AZ: American Girl Phoenix will open a store at Scottsdale Quarter in Summer 2015.[4]
Specialty Boutiques
American Girl Specialty Boutiques are international outlets located outside of the United States. Unlike the Boutiques and Bistros, Specialty Boutiques are located within an already-established store; as licensee locations they are not considered a standalone store in their own right.
Canada
Toronto, ON: American Girl Toronto was opened in 2014 within Indigo Toronto at the Yorkdale Shopping Centre.
Vancouver, BC: American Girl Vancouver was opened in 2014 within Chapters Vancouver.
Ottawa, ON: American Girl Rideau was opened in 2014 within Chapters Rideau.
Temporary Boutiques
Honolulu, HI: American Girl Hawaii[5] opened a temporary boutique at Ala Moana Center, running from October 4, 2014, to April 2015.[6]
Ordering from Stores
A person who does not live near an American Girl Place or Bistro can call customer service and may be directed to a personal shopper at the store and order items to be shipped to them. They may or may not have to pay taxes but will have to pay standard shipping costs. Many people do this for exclusives or when an item is retired; some stores have small stock of retired items when an item is no longer available for ordering at the website.
See Also
References