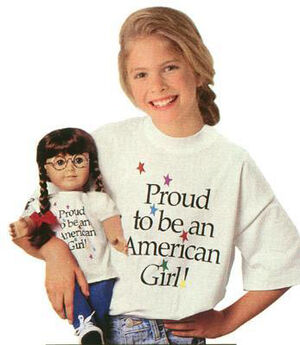 The American Girl Tenth Anniversary Shirt was an American Girl of Today shirt released in 1996 and later retired. Initial retail cost was $2.50 and $6 for the girl's shirt; this was later increased to $14.95 for the pair.
Doll's Shirt
White oversized t-shirt. "Proud to be an American Girl!" in black lettering and colorful stars surrounding and dotting the 'Is . Pleasant Company logo on right sleeve. Velcroes in back.
Girl's Shirt
Oversized t-shirt that matched doll's shirt.
See Also
Ad blocker interference detected!
Wikia is a free-to-use site that makes money from advertising. We have a modified experience for viewers using ad blockers

Wikia is not accessible if you've made further modifications. Remove the custom ad blocker rule(s) and the page will load as expected.