Ad blocker interference detected!
Wikia is a free-to-use site that makes money from advertising. We have a modified experience for viewers using ad blockers

Wikia is not accessible if you've made further modifications. Remove the custom ad blocker rule(s) and the page will load as expected.
American Girl Wiki News!
November 29th, 2016 / Information on Tenny Grant, Two Upcoming Compilation Books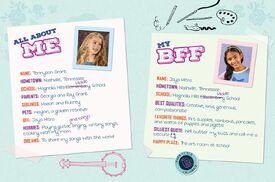 Information from Chapters (The Canadian partner of American Girl) has released data on a Modern Contemporary character, as well as Catalist, which has offered an image of the character and her best friend, Jaya. Tenney Grant appears to be older than average characters (states she is in middle school) and from Nashville, Tennessee. This appears to be a wholly separate line from the Girls of the Year; however, until more information is confirmed, no data will be placed on the wiki.
Two compilation books are due to be released in 2017: American Girl: The Story of America and the American Girl Character Encyclopedia.
Nethilia, The Admin
November 3, 2016 / Amazon Movies and Bundles
Maryellen's Amazon movie has been renamed Maryellen 1955: Extraordinary Christmas. The first trailer has been released.
Multiple holiday bundles have been released and are available until December 24th or until supplies last. These include bundles for BeForever characters and pajama bundles (these include a doll's outfit and child's matching pajamas) and are discounted from standard costs. Bundles for Truly Me and Bitty Baby are available until November 22.
Nethilia, The Admin
October 27, 2016 / More Costco Bundles at American Girl 2016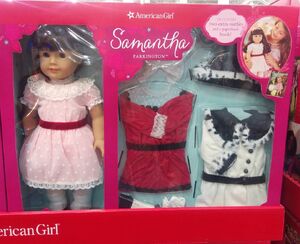 Some more Costco Bundles have come out:
Funky German Shepard Pet-House Set; like previous sets, this one contains a pet, several accessories, and a coloring pet house and book, $29.99 (as well as other pet bundles)
A new Bitty Baby bundle: Bitty Baby doll, Cloth carrying case, sleeper, diaper, rattle, top, leggings, hat, bib, quilt, booties, and bottle for $99.99
A unique Samantha bundle: the doll, Samantha's Fancy Coat Set, a modified (non-plaid) version of the dress from Samantha's Holiday Set, and Manners and Mischief for $119.99. The bundle also includes a coupon that will take %50 off of a purchase of Samantha's (BeForever) Accessories until April 2017.
You must have access to a Costco Club Membership to take advantage of these offers; these are not available online.
Nethilia, The Admin
October 6, 2016 / New Children's Items, and Maryellen Special
Some new items just came out sized for children in the Logo Shop:
The last two might have been out a while and just were not documented.
Furthermore, an IMDB page has released the information on Maryellen's Amazon special: Maryellen 1955: The Gift of Giving. This will be released on November 25th, starring Alyvia Alyn Lind.
ETA, 11/3/16: The movie has been renamed Maryellen 1955: Extraordinary Christmas.
Nethilia, The Admin
October 5, 2016 / Melody at Amazon.com
Like Maryellen, Melody collections are available through Amazon. The following bundles are available:
Also added are the following new Amazon Collections for Maryellen:
As before there appear to be no discounts, but because of Amazon's free shipping offered after $50 of items, there are no shipping charges. Note that AG Rewards points cannot be earned on Amazon.com purchases.
ETA: Furthermore, the Melody special Melody 1963: Love Has to Win will air on Amazon Prime Streaming starting on October 21st.
Nethilia, The Admin
October 1, 2016 / Costco at American Girl 2016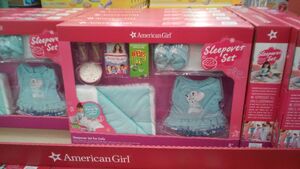 Costco continues its partnership with American Girl, offering unique bundles through their warehouse stores.
Explore with Lea book set: includes extra sarong, sandals (with stickers), backdrop, and mango juice bottle, along with original book items for $24.99.
BeForever Book + Mini Doll sets: All three books, the Mini doll, a unique stand, and a patterned bookmark for $39.99.
Various Truly Me craft and activity books (Doll Pets, Doll Boutique, and Doll School) including extra accessories, $24.99
Eight in One Fashion Accessory Super Set: contains two doll shirts, doll and girl drawstring backpack, supplies for tutus and bracelets, and other craft accessories, $23.99
Gift Card sets of $100 for $79.99, an immediate 20% discount. The Gift cards can be used at stores or online (but not at places such as TRU/Kohls/Barnes and Noble).
Horse and Saddle Set: a bundle of the retired Chestnut Horse with small accessories: saddle, bridle and reins, blanket, bristle brush, carrots and apple, $49.99 (Notably, the horse at Costco only has three white socks instead of four.)
The unique Costco Sleepover Set including a unique set of pajamas and slippers, sleeping bag, and pillow, and accessories, $39.99
You must have access to a Costco Club Membership to take advantage of these offers; these are not available online.
Nethilia, The Admin
---
Older News
Helping Out
Not sure where to start?
Adding content
Talk and more...
Check out the community portal to see what the community is working on, to give feedback or just to say hi.
---
To write a new article, just enter the article title in the box below. Check to see if we have it first!

Hot Topic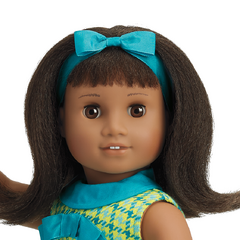 Hot Topic:
Melody Ellison

Melody Ellison is the newest character in the BeForever line up. Representing the Mid 20th-Century Civil Rights movement, she hails from Detroit Michigan and loves to sing and lift her voice.
---
Read more about Melody Ellison on her article page!
American Girl In The News
Loading RSS data...
Please note that the American Girl Wiki staff does not collect or personally locate these news articles; they are pulled in by an automated RSS feed. The American Girl Wiki and its admins have no official opinion on any article seen here.
---
REFRESH