Home
Talk

21
2,794pages on
this wiki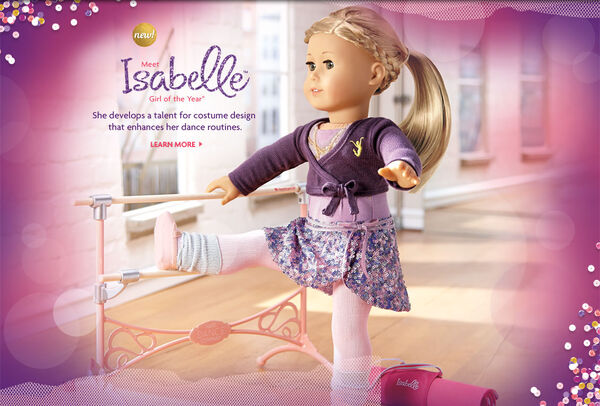 American Girl Wiki News
August 21, 2014 / Girl of the Year 2015 update
Amazon has listed a third book for GotY 2015 - however, it has a May 2015 release date. This marks a departure from Isabelle's release as her three books were released simultaneously.
July 31, 2014 / Girl of the Year 2015
Amazon has listings for Girl of the Year 2015:
It appears GotY 2015 will have a culinary theme to her collection and she is from Massachusetts. Mary Casanova is the author of both books. It need not be said this wiki has a zero-tolerance approach to speculation/leaks of any sort.
--AkaiKaze, the Other Admin
June 30, 2014 / Sellouts, New Things Released, and the Countdown to BeForever
A catch up on what's been happening in and with AG. First of all, many new things were released for My American Girl, Isabelle's collection, and the Bitty Babies and Bitty Twins.
For Isabelle:
On June 1st the digital story Isabelle in the City was released and is available on iTunes and Amazon.com.
For My American Girl, a new doll, My AG# 61 was released, as well as the following items: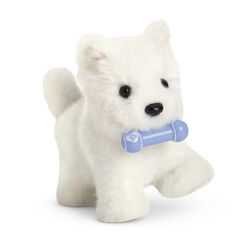 Coconut received a makeover that restored magnetic toys and allowed limbs to be posed. All older pets and a majority of the older sets were retired and replaced with nameless pets: the Chocolate Lab Puppy, Dalmatian Puppy, Apricot Poodle Puppy, Corgi Puppy, and Himalayan Kitten. New items for modern pets include the following:
For Bitty Baby:
For the Bitty Twins:
The Purchase With Purchase at stores is the Beach Dress and Hair Accessory at $16 with a $50 or more purchase. The Beach Cabana Set is a store-exclusive set.
Cécile and Ruthie are no longer in stock. Ivy's Meet Accessories have also gone out of stock, which means there is no longer an option to bundle the doll with them. Several outfits and items from all three collections have also gone out of stock.
BeForever will officially launch on August 28th, bringing full changes to the Historical Characters; stores will be holding launch activities the first full weekend from August 28th to 31st. American Girl has released several promotional videos on the official Youtube Channel [1]. Even in excitement, we expect maturity and respect in articles as we transition to a new era in American Girl Historicals.
--Nethilia Admin
June 4, 2014 / American Girl Scottsdale
American Girl announced on their official Facebook page they will be opening a new store at Scottsdale Quarter in Scottdale, AZ.
--AkaiKaze, the Other Admin
May 21, 2014 / The Retirement of Ivy, Ruthie, Cécile, and Marie-Grace
It was officially announced on the American Girl Facebook page that the characters Ivy Ling, Ruthie Smithens, Cécile Rey, and Marie-Grace Gardner will be retired. Quantities of the dolls and items in their collections are limited. This marks the official end of the Best Friends line that was started in 2004 with Nellie O'Malley.
With this news, Cécile and Marie-Grace have the distinction of the shortest run ever for a Historical Character withe about three years in total.
--Nethilia Admin
May 9, 2014 / BeForever Covers Revealed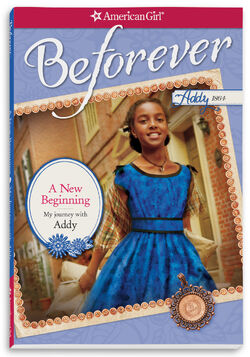 The covers for the revamp of the Historical Characters line have been uploaded to the American Girl Publishing website. The line is being renamed "BeForever", consolidating the Central Series into two-volumes covering three books each.
The "My Journey" books appear to be a Choose-Your-Own Adventure style book for the characters receiving them. The covers have shown new outfits for several characters. There is still no detail being shown for Cécile, Marie-Grace, or any retired characters other than Samantha (who is being rereleased).
Much like when "Just Like You" was renamed to My American Girl, the Administration will likely be editing articles to reflect new names and designations, but not redoing the whole category if at all possible due to size and imprecision. Also while there have been leaks of outfits and information, we do not put up non-official pictures or rumors.
--Nethilia Admin
April 2, 2014 / American Girl Specialty Boutiques grand opening
For Canadian fans of American Girl: Indigo Books and Music has announced their grand openings for the American Girl Specialty Boutiques in Toronto and Vancouver is scheduled for May 3, 2014. More information can be found at Indigo's American Girl page.
--AkaiKaze, the Other Admin
---
Older News
Helping Out
Not sure where to start?
Adding content
Talk and more...
Check out the community portal to see what the community is working on, to give feedback or just to say hi.
---
To write a new article, just enter the article title in the box below. Check to see if we have it first!

Hot Topic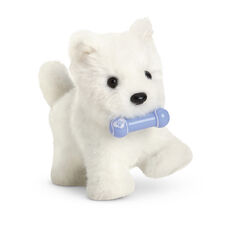 Hot Topic:
Coconut's New Look!

Coconut recently received a makeover that allows her and newly released pets to hold toys near their mouths and pose their limbs. This is the fifth makeover for Coconut since her release in 2000 - a fourteen year run!
---
Read more about her and her friends on the article page!
American Girl In The News
Loading RSS data...
Please note that the American Girl Wiki staff does not collect or personally locate these news articles; they are pulled in by an automated RSS feed. The American Girl Wiki and its admins have no official opinion on any article seen here.
---
REFRESH