American Girl Wiki News!
February 11, 2016 / New items
New items from AG have been released, and the rundown is as follows.
For Truly Me:
Bitty Baby got some new stuff after skipping out on the New Year release:
For BeForever, new mysteries for Kaya, Josefina, and Maryellen, respectively.
For everyone else in BeForever save Caroline, new reprints.
Lea's third book, Lea and Camila, and her 3-book set is now available.
Bitty Twins lose out for the third straight time in a row.
--AkaiKaze, the Other Admin
February 5, 2016 / 30% Off In-Store Sale
In stores, various items from all lines are on sale for up to 30% off. This also includes new Valentines outfits.
Nethilia, The Admin
January 30, 2016 / Lea Sale
Starting on January 27th, there is a sale online on various discounted bundles of Lea and items in her world (each selling for $150; discount total varies based on components) and free shipping on all items in her collection through Feb. 1st. The three bundles each include the doll/book and various sets:
* Lea's Kayak Adventure Set: Doll and Lea's Ocean Kayak Set (25% discount)
* Lea's Beach Collection: Doll, Lea's Mix and Match Swim Set, and Lea's Beach Accessories (20% discount)
* Lea's Sweet Dreams Collection: Doll, Lea's Rainforest Dreams Pajamas, and matching child's sized pajamas (17% discount)
(The sale started three days ago; I was just now able to get around to making news about it.)
Nethilia, The Admin
January 21, 2016 / Release Dates for Melody's Other Books, Winter Sale
Amazon has put up preorders for the second volume and My Journey book (and three-book set) for Melody Ellison, with release date of June 23, 2016. This is quite possibly the release date for Melody's collection.
American Girl is currently having a winter sale, with items up to 40% off.
Nethilia, The Admin
January 1, 2016 / Lea's debut, 2016 BeForever Special Edition mini dolls
Lea Clark makes her debut, here's a rundown of her collection:
Additionally, American Girl is accepting donations on behalf of the World Wildlife Fund as part of Lea's campaign in 2016.
With regards to BeForever, new 2016 Special Edition mini dolls have been released. If you were hoping for special edition mini dolls of Caroline or Melody, you are out of luck, though Melody's first volume, No Ordinary Sound, is now available.
For Truly Me and/or general doll stuff:
A Coconut plush toy was also released, and an update on some AG store exclusives.
Bitty Baby got nothing new for this release, along with the Bitty Twins.
It may be the new year but the same old rules of the wiki still apply.
--AkaiKaze, the Other Admin
December 30, 2015 / Grace Sell-outs and Lea Leaks
Grace Thomas has sold out online. So long!
Leaks have come out about Lea's collection. We here at the A*G Wiki remind you that, even two days to go, we don't upload images or data before the day of launch unless the source has been vetted as reliable. You can wait two days to have the data up.
Nethilia, Admin Not-For-Leaking
December 24, 2015 / Melody Ellison, BeForever 2016
The January 1, 2016, release date for the newest BeForever character's Volume 1 initially seen on Amazon appears to be genuine as people have managed to find it in actual bookstores. Information from Lissie and Lilly states the newest BeForever character is a girl of color named Melody Ellison and her era is 1960s. It is still unknown when Melody's other books will be released or when her doll will make its debut.
As excited as we are for Lea and Melody in 2016, we still do not condone leaked images or speculation on the wiki and any such malarkey will be swiftly dealt with.
--AkaiKaze, the Other Admin
December 4, 2015 / GOTY 2016 leaked
It appears that GOTY 2016 was leaked via a Scholastic book fair ad that revealed her name is Lea Clark, as reported from Lissie and Lilly. There are also additional leaks on YouTube that we're not posting here because of our zero-tolerance policy for leaked images/media and it should go without saying we don't tolerate speculation as well.
AkaiKaze, the Other Admin
Nov 12, 2015 / American Girl YouTube Shorts
American Girl has released two short films on YouTube that are open for free viewing:
Articles about these short movies will go up soon enough.
Nov 3, 2015 / American Girl and Costco Combined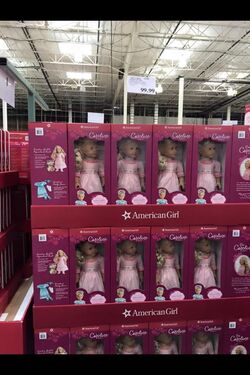 Many people have found several American Girl bundles through Costco for the holiday season. This includes:
Baking with Grace book set: includes extra apron, spatula, and mixing bowl along with original book items for $24.99.
BeForever Book + Mini Doll sets: All three books, the Mini doll, a unique stand, and a patterned bookmark for $39.99.
Various Truly Me craft and activity books (Doll Pets, Doll Boutique, and Doll Art Studio) including extra accessories, $24.99
The Ultimate Crafting Kit, which contains multiple supplies for crafting bracelets for dolls and children, $????
Pet House sets, including a new Fancy Cocker Spaniel Pet-House Set, $29.99
Gift Card sets of $100 for $79.99, an immediate 20% discount. The Gift cards can be used at stores or online.
Bitty Baby bundles for $99: includes a doll (in the now-retired Cuddly Star Sleeper) and the Deluxe Layette Set.
And most notably, Caroline dolls bundled with Caroline's Party Gown for only $99.99!
You must have access to a Costco Club Membership to take advantage of these offers; these are not available online.
Nethilia, who thinks discounts are awesome.
---
Older News
Helping Out
Not sure where to start?
Adding content
Talk and more...
Check out the community portal to see what the community is working on, to give feedback or just to say hi.
---
To write a new article, just enter the article title in the box below. Check to see if we have it first!

American Girl In The News
Loading RSS data...
Please note that the American Girl Wiki staff does not collect or personally locate these news articles; they are pulled in by an automated RSS feed. The American Girl Wiki and its admins have no official opinion on any article seen here.
---
REFRESH