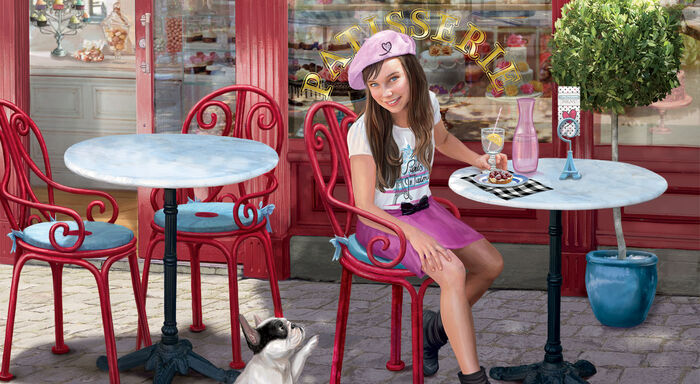 American Girl Wiki News
June 25, 2015 / Summer release
Grace's movie is out, so go watch that. Her stuff came out last week.
As to everyone else, nearly all the BeForever save Samantha and Caroline got new bedtime sets:
Kaya:
Josefina:
Addy:
Rebecca:
Kit:
Julie:
For Truly Me:
Bitty Baby only got one outfit:
For Bitty Twins:
--AkaiKaze, the Other Admin
June 19, 2015 / Grace Release and Sneak Peak for Summer Release Items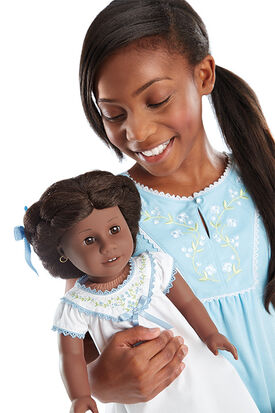 Several items released for Grace's collection, rounding it out for the year:
Several items are clothes and items for girls:
A sneak peek of new BeForever, Bitty Baby, Bitty Twins and Truly Me items. The BeForever release will be focused on pajamas and all new bed sets--so if you don't have older ones, pick them up if you still can.
While this is a peek, it's not officially released, so be prudent. We're watching you.
Nethilia, Admin with Attitude
May 21, 2015 / Truly Me debuts
So My American Girl got renamed to Truly Me. Here is the rundown on the new stuff.
New dolls:
New outfits:
New furniture and accessories:
In other news related to My American Girl/Truly Me, there is a Truly AwesoME Sweepstakes for a chance to win various prizes. The contests end August 12 and is eligible to girls ages 8-13 living in the United States who have obtained their parents/guardian's permission to participate.
Additionally, Innerstar University will be closing their doors on November 5 later this year.
As for Grace, her third book, Grace Makes it Great, finally gets released but no outfits or accessories for the time being.
Be sure to write up proper descriptions and follow the policies. We don't suffer fools gladly on this wiki.
--AkaiKaze, the Other Admin
May 13, 2015 / Maryellen officially announced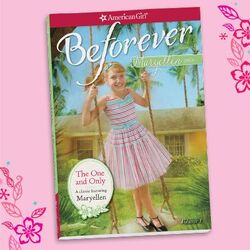 American Girl's Facebook account just revealed the first book for their newest BeForever character, Maryellen Larkin. There is still no information as to what setting her books will be set in or what her themes will be.
On this wiki we take a zero-tolerance approach on leaked information that did not come through official channels. That goes for speculating and rumor-mongering.
--AkaiKaze, the Other Admin
May 4th, 2015 / Caroline Archival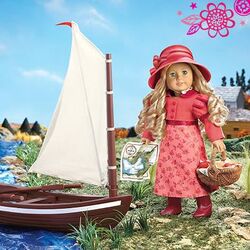 American Girl's Facebook and Instagram account have made the official announcement that Caroline Abbott and her entire collection are to be archived. This will likely happen by August to allow the release of Maryellen. Like Marie-Grace and Cécile before her, Caroline had a three-year run.
This, unfortunately will leave a large gap between 1764 and 1824 and a large emphasis on the 20th Century. Will there later be a rerelease of Felicity or a new Historical/BeForever to later fill this? Time will tell. For now, if you don't have her or her things, start to get them before they leave!
--Nethilia
April 23rd, 2015 / Song of the MockingBird and Maryellen on the AG Publishing Site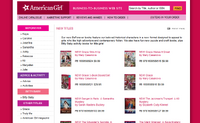 American Girl's Publication site has shown a category under the BeForever column, showing the character name "Maryellen" (one word, no spaces) between Kit and Julie chronologically. Nothing is shown in the category when clicked on, but the shell of the page is visible. There is also the category "Truly Me" in place of "My American Girl." A screencap has been provided in the event American Girl edits the page to prevent leaks or questions.
The cover for Song of the Mockingbird: My Journey with Josefina has appeared on AG's Canadian distribution site, Georgetown Publications. This have been placed on the article's page.
Again, our Wiki does not accept leaked information that is not on official sites. So no pages or add ins (and certainly no images!) until this data is more solid.
--Nethilia, who you best not finna try
April 2, 2015 / American Girl Nashville grand opening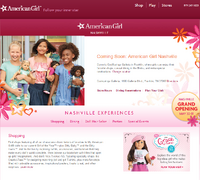 While the Nashville store page isn't present via American Girl's store search function, the page is live, with the grand opening set on the weekend of May 30 and 31.
A screencap on the right has been provided in the event American Girl takes the page down between now and whenever they feel like putting it back up again, probably closer to the scheduled dates.
--AkaiKaze, the Other Admin
ETA: It should be noted that Nashville's grand opening dates in May was first noted in a Wisconsin State Journal article with regards to staff layoffs. The same article also quotes that the AG store in Scottsdale is set to open sometime in August.
---
Older News
Helping Out
Not sure where to start?
Adding content
Talk and more...
Check out the community portal to see what the community is working on, to give feedback or just to say hi.
---
To write a new article, just enter the article title in the box below. Check to see if we have it first!

Hot Topic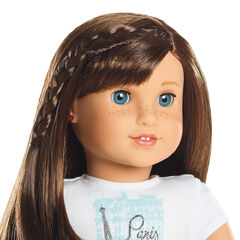 Hot Topic:
Grace Thomas

Grace Thomas is the Girl of the Year for 2015. She is an aspiring baker and entrepreneur from Massachusetts.
Her promotion includes a yearlong fundraising initiative from American Girl, "For Goodness, Bake!", to support Share Our Strength's No Kid Hungry campaign to end child hunger in America.
---
Read more about Grace on her article page!
American Girl In The News
Loading RSS data...
Please note that the American Girl Wiki staff does not collect or personally locate these news articles; they are pulled in by an automated RSS feed. The American Girl Wiki and its admins have no official opinion on any article seen here.
---
REFRESH