American Girl Wiki News!
October 1, 2016 / More Costco Bundles at American Girl 2016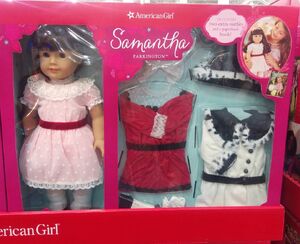 Some more Costco Bundles have come out:
Funky German Shepard Pet-House Set; like previous sets, this one contains a pet, several accessories, and a coloring pet house and book, $29.99 (as well as other pet bundles)
A new Bitty Baby bundle: Bitty Baby doll, Cloth carrying case, sleeper, diaper, rattle, top, leggings, hat, bib, quilt, booties, and bottle for $99.99
A unique Samantha bundle: the doll, Samantha's Fancy Coat Set, a modified (non-plaid) version of the dress from Samantha's Holiday Set, and Manners and Mischief for $119.99.
You must have access to a Costco Club Membership to take advantage of these offers; these are not available online.
Nethilia, The Admin
October 6, 2016 / New Children's Items, and Maryellen Special
Some new items just came out sized for children in the Logo Shop:
The last two might have been out a while and just were not documented.
Furthermore, an IMDB page has released the information on Maryellen's Amazon special: Maryellen 1955: The Gift of Giving. This will be released on November 25th, starring Alyvia Alyn Lind.
October 5, 2016 / Melody at Amazon.com
Like Maryellen, Melody collections are available through Amazon. The following bundles are available:
Also added are the following new Amazon Collections for Maryellen:
As before there appear to be no discounts, but because of Amazon's free shipping offered after $50 of items, there are no shipping charges. Note that AG Rewards points cannot be earned on Amazon.com purchases.
ETA: Furthermore, the Melody special Melody 1963: Love Has to Win will air on Amazon Prime Streaming starting on October 21st.
Nethilia, The Admin
October 1, 2016 / Costco at American Girl 2016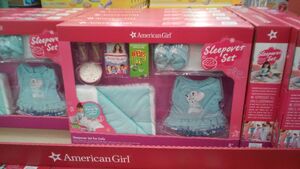 Costco continues its partnership with American Girl, offering unique bundles through their warehouse stores.
Explore with Lea book set: includes extra sarong, sandals (with stickers), backdrop, and mango juice bottle, along with original book items for $24.99.
BeForever Book + Mini Doll sets: All three books, the Mini doll, a unique stand, and a patterned bookmark for $39.99.
Various Truly Me craft and activity books (Doll Pets, Doll Boutique, and Doll School) including extra accessories, $24.99
Eight in One Fashion Accessory Super Set: contains two doll shirts, doll and girl drawstring backpack, supplies for tutus and bracelets, and other craft accessories, $23.99
Gift Card sets of $100 for $79.99, an immediate 20% discount. The Gift cards can be used at stores or online (but not at places such as TRU/Kohls/Barnes and Noble).
Horse and Saddle Set: a bundle of the retired Chestnut Horse with small accessories: saddle, bridle and reins, blanket, bristle brush, carrots and apple, $49.99 (Notably, the horse at Costco only has three white socks instead of four.)
The unique Costco Sleepover Set including a unique set of pajamas and slippers, sleeping bag, and pillow, and accessories, $39.99
You must have access to a Costco Club Membership to take advantage of these offers; these are not available online.
Nethilia, The Admin
September 29, 2016 / American Girl and Kohl's
Somewhat old-ish news that somehow slipped beneath the radar - back on September 8, American Girl and Kohl's announced a partnership similar to what American Girl has done with Toys R Us as Kohl's will stock items from the WellieWishers line as well select items from Lea Clark's collection starting October 3:
Unlike the Toys R Us partnership, it appears there will not have any Kohl's-exclusive AG items nor will Kohl's carry items from any other product lines. (Source)
AkaiKaze, the Other Admin
September 23, 2016 / Confirmation of Felicity Book Re-Release
The descriptions for the books A Stand for Independence, Love and Loyalty, and Gunpowder and Tea Cakes on Amazon's Canadian Site have confirmed by description that these are a re-release of the Central Series for Felicity Merriman and a journey book.
As of right now there is no confirmation by American Girl of any other rereleases for older archived characters, or a rerelease of Felicity's collection for the BeForever Line. No covers are visible yet, so we have no images of the updated look; however, it is likely the covers will be changed.
Nethilia, The Admin
September 8th, 2016 / Truly Me Collection Sale
A sale for Truly Me dolls is available. Unlike prior sales, this one is able to be customized by customers, who may pick from:
Any Truly Me Doll
Any one "Special Extra" (various accessories in the $6-$16 price range such as shoes, hairbrushes and care kits, glasses, jewelry, hats, and purses)
Any two outfits from available Truly Me Outfits
Once all items are chosen, the entire collection is then discounted a flat 20%. This sale is through September 19th; the offer excludes any sale or discounted items.
Nethilia, The Admin
August 31, 2016 / American Girl To Partner With Toys 'R Us; Shop-in-Shops Opening This Fall
A Mattel press release has announced that American Girl Products will be sold in Toys 'R Us stores across the United States. Toys 'R us will be the only U.S. retailer to have AG Shop-in-Shops in select stores outside of American girls shops and boutiques and the online store. (source)
The first line to be released includes WellieWishers dolls and accessories, beginning this weekend. Full shop-in-shops will open this fall and include exclusive selections of Truly Me items, outfits, and accessories as well as dolls. (It has not yet been stated if any dolls will be TRU Exclusives.) BeForever items and dolls will continue to only be available at the boutiques.
Until we have more details, please don't rumormonger. We don't like it and neither do you.
Nethilia, The Admin
August 25, 2016 / Melody Release Bundles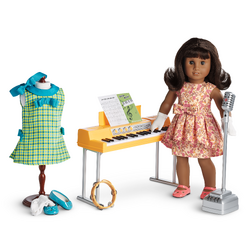 Three Melody Bundles with discounts have also been released:
Melody Doll and Performance Collection, $190 (from standard of $235, save $45): Melody's Fancy Floral Dress, Melody's Electric Piano, Melody's Microphone Set
Melody Doll and Block Party Collection, $240 (from standard of $296, save $56): Melody's Play Outfit, Melody's Table and Chairs, Melody's Block Party Set
Bedtime Collection, $225 (from standard of $287, save $62): Melody's Pajamas, Melody's Bed and Bedding, and Melody's Bedroom Accessories
Each comes with the Melody Ellison doll and No Ordinary Sound. These are only available through August 29th--the first five days of release.
Nethilia, The Admin
August 25, 2016 / Melody Ellison Arrives! (And the Holiday End of Year Releases)
After so much information coming out already, the day is here! Melody Ellison has now officially released, along with her collection:
Items were released for all major lines to complete the holiday releases, including BeForever characters:
For Maryellen Larkin:
For Julie Albright:
For Rebecca Rubin:
For Josefina Montoya:
Children's clothes based on characters:
For the WellieWishers:
For Truly Me:
For Bitty Baby:
Other books and items:
Give us your best on every article and enjoy the new stuff!
Nethilia, The Admin
August 24, 2016 / Upcoming American Girl Books
New books have been listed on Amazon.com, due in 2017
For the BeForever Historical Character Mysteries:
Three new WellieWishers books:
Finally, three books that, at present, sound like a potential rerelease of Felicity Merriman's Central Series:
As of right now there is very little detail on the last three books, other than two are by Valerie Tripp; however, the titles seem to lean towards a focus on Felicity. ETA, 8/27/16: Additional information on the descriptions shows a release date of February 2017 as well as the category of "Colonial", helping this lean towards a rerelease of Felicity's Central Series stories.
Remember, we don't do Rumors, so don't cause trouble.
Nethilia, The Admin
August 18, 2016 / Fall 2016 Sneak Preview
American Girl has released a sneak preview of new items that will be coming out August 25th with Melody's official launch.
Items shown include new outfits for Julie, Maryellen, and Josefina; new BeForever accessories for Maryellen around food; lots of items for both Truly Me and Bitty Baby, including playsets and accessories; and even a new winter set for the WellieWishers.
As usual, sneaks are not confirmations. We don't tolerate rumors and half facts.
Nethilia, The Admin
ETA: American Girl has also put up a preview of several items for Melody's collection, including clothes, furniture, and accessories.
August 6, 2016 / American Girl at Amazon.com
American Girl is now selling products through amazon.com. They have started with bundles for Maryellen Larkin, which became available August 1st.
There appear to be no discounts, but because of Amazon's free shipping after $50 of items there are no shipping charges. Do take note that other American Girl products sold on Amazon are not fulfilled by American Girl; many items listed are sold by secondary sellers at inflated prices.
Nethilia, The Admin
ETA, 8/23/16: The MegaBloks sets are also available.
August 4, 2016 / Gymnastics Bundle and Back-to-School/A+ Sale
A bundle for the Truly Me collection has been released, the "Gymnastics Star" Collection. This includes the Two-in-One Gymnastics Practice Outfit, Rhythmic Gymnastics Outfit, and Gymnastics Set for $115 (from original costs of $149, a savings of $34/22%). Adding any available Truly Me doll increases the cost to $205 (from $264, a savings of $59/22%). These bundles are available until August 8 and have free shipping.
There is also a sale--A+ Sale--through August 15th. This includes various Truly Me outfits, school-based Truly-Me Accessories, BeForever school outfits, BeForever accessories, craft kits, the Limited edition Mini Dolls, and various books and accessories.
Nethilia, The Admin
August 3, 2016 / AG Rewards Offer for Melody's AG Rewards Collection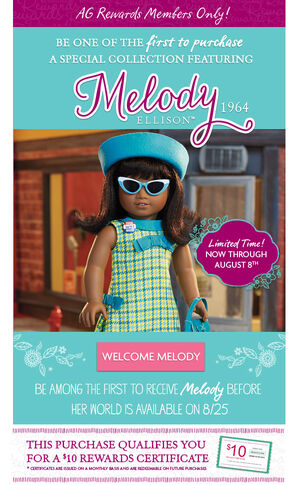 Customers that opted into AG Rewards before July 27th were, on August 1, offered a preorder to purchase Melody's AG Rewards Collection,, a unique starter collector for Melody Ellison costing $212. This includes the Melody Ellison doll along with the following items:
Items cannot be removed or adjusted online. The order has free shipping; furthermore, American Girl intends to ship orders in order to have the order arrive to purchasers on or before August 18th, a week before Melody's official debut on August 25th. (Purchases are only shipped and cannot be picked up in stores.) This is an offer only available to AG Rewards members that signed up before July 27th, and is only available through August 8th.
This does mean that there will be some people who will have Melody and some of her items before the official launch. However, quality doesn't change. Write well-written contributions for new or existing articles, give good detail pictures, and don't try to "first" this.
Nethilia, The Admin
---
Older News
Helping Out
Not sure where to start?
Adding content
Talk and more...
Check out the community portal to see what the community is working on, to give feedback or just to say hi.
---
To write a new article, just enter the article title in the box below. Check to see if we have it first!

Hot Topic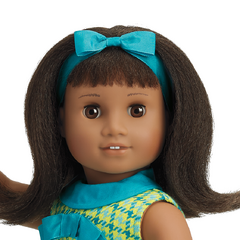 Hot Topic:
Melody Ellison

Melody Ellison is the newest character in the BeForever line up. Representing the Mid 20th-Century Civil Rights movement, she hails from Detroit Michigan and loves to sing and lift her voice.
---
Read more about Melody Ellison on her article page!
American Girl In The News
Loading RSS data...
Please note that the American Girl Wiki staff does not collect or personally locate these news articles; they are pulled in by an automated RSS feed. The American Girl Wiki and its admins have no official opinion on any article seen here.
---
REFRESH