American Girl Wiki News!
September 5th, 2017 / Molly BeForever Volumes, Historical Mystery Books, and More Books Found; Plus, A Warning Against Vanity Articles
Recent finds on Amazon.com reveal three new volumes for Molly McIntire, in the same vein as the remade books for Felicity and all other BeForever characters:
The books are due for a release in February 2018. While this, like Felicity, is a portent of a potential rerelease of the Molly doll and her inclusion in BeForever, we don't want to speculate before any official announcements.
Other Historical Character Mysteries and titles coming out include:
The Legend of the Shark Goddess for Nanea Mitchell (her first!)
A Girl Named Misty: The True Story of Misty Copeland [1]
Jasmine's Big Idea (Forever Friends #1) [2]
Madison's New Buddy (Forever Friends #2) [3]
Zoe On the Air (Like Sisters #3) [4]
American Girl: Around the World Cookbook
As books are released and series are connected and more is revealed, we will give more information.
Administration Note: "Vanity Articles"are now a legitimate reason for a page or file to be removed and/or users to be blocked for a length of time. Remember that this wiki is not about anyone's personal relations to a character, their resemblance to any dolls, or any personal characters created.
Nethilia, The Admin
August 21, 2017 / Nanea's Release!
Nanea Mitchell is officially out today! Along with the doll, the collection includes:
American Girl is also partnering with the Red Cross to accept donations. Release activities will be available at several American Girl Place locations starting August 25th and over the weekend.
The other BeForever characters were not left out either:
In the wake of Nanea's release, the collections of Addy Walker and Samantha Parkington have, like Felicity Merriman, become available only at flagship stores and online, rather than retired.
Every line received something in this release.
New things released for Gabriela's Collection:
For Bitty Baby:
Other New Books:
Nethilia, The Admin (who hopes you're safe watching the eclipse today!)
August 8, 2017 / Launch of the Create Your Own Line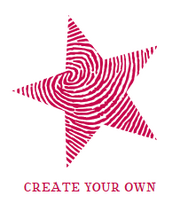 The Create Your Own line has officially launched by American Girl, including the following outfits and accessories for the line:
Also launching is the online Design Studio, allowing the designing of outfits on templates:
Designed can be stored with an active account on the website. Orders can be placed at any time, but custom dolls that use components that are not available will be placed on back order and not shipped until created. Backorders are listed as far as November for delivery.
Heed warnings previously posted about the Create Your Own Line.
Nethilia, The Admin
August 1, 2017 / Nanea Mitchell Pre-Release for Rewards Members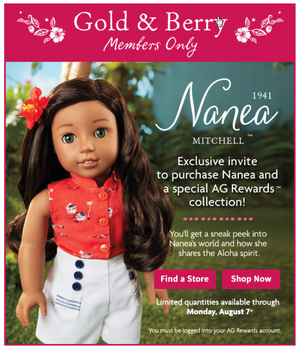 Like Melody Ellison last year, a pre-release for Nanea Mitchell has come out for AG Rewards members, "Nanea's AG Rewards Collection." However, this year the offer is exclusive to members that have reached at least the Gold Rewards Tier.
This collection, costing $216, consists of the following:
This bundle is delivered in a special AG Rewards box (much like Melody's) and can also be obtained at an American Girl Place if a person can prove their reward tier level to a personal assistant. Shipped orders have free shipping and will arrive before August 18th, a week before Nanea's official release on August 24th. The offer is only until August 7th.
Just like Melody before her, this does mean that there will be some people who will have Nanea and some of her items before the official launch. However, quality here doesn't change. Write well-written contributions for new or existing articles, give good detail pictures, and don't try to "first" this.
Nethilia, The Admin
July 24, 2017 / More on the Create Your Own Line, including Launch Day
A video about the Create Your Own line has been released by American Girl on their YouTube channel. It shows some aspects of the online designer, as well as some of the possible combinations of tones and hairstyles. This has been updated in the article.
The line is scheduled to launch August 8th in flagship stores and online. ETA 7/28/2017: Press Release can be found here: American Girl Debuts Custom Doll And Apparel-Making Experience With Never-Before-Released Options And Over One Million Design Combinations
Nethilia, The Admin
July 11, 2017 / Toys R Us Exclusive Wellie Wishers and the Create Your Own Line
More information has come out about the Create Your Own line both online and through releasing catalogs. The line--unlike Truly Me--will allow purchasers to design and purchase custom dolls themselves. Very little has been released; the line will release fully at the end of July.
I will take this moment to reconfirm that we are a wiki about information on American Girl, not about personal product consumption, purchase, or creativity. We will not allow any unneeded images, articles, or wasteful data on a person's specific created dolls, and this does not change with the launch of the Create Your Own Line. Any articles or images that appear to be about about documenting anyone's collection (beyond information on personal information pages) are not done or allowed here. Blocks will be utilized if it becomes necessary.
Nethilia, The Admin, (who doesn't care how cute your pixie-cut doll with blue eyes is, she's not going on the page just to say you made her).
June 23, 2017 / AG Rewards Only Outfits for Truly Me and Bitty Baby, Upcoming TRU only WellieWishers Outfit, 18" Custom Line information, and a Reminder on Policy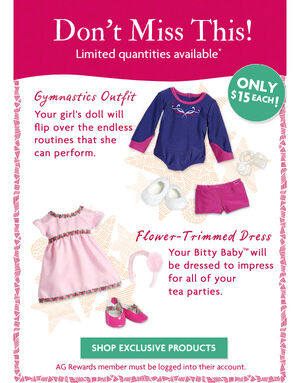 An upcoming WellieWishers outfit will be available as a Toys R Us Exclusive. Images have been seen but no name has been confirmed.
Information is starting to release about a design your own American Girl 18" doll. So far what is known is that the option will be available near the end of July. For $200 (with free shipping) a person may purchase a customized doll, customized outfit and accessory set, keepsake doll box, designed t-shirt, and a six month (three issue) subscription to American Girl Magazine.
The Administration here would also like to take this time to remind all users that we here at the A*G Wiki do not care if you are new to editing or excited about getting an article/image up first if it is poorly written or improperly done. You can and will be blocked for both violations for a minimum of a week. Read our Policies, because you will be subjected to them from moment one.
Nethilia, The Admin
ETA: American Girl has recently stated that they will no longer be able to do head replacements on Lindsey dolls through the American Girl Hospital as they have exhausted the supply. Other repairs may continue. (Edit by AkaiKaze: American Girl's Twitter statement on Lindsey.)
June 22, 2017 / The Summer Release and A Book Sale
The Summer Release of new items was made, and there was a lot for the Truly Me Line. Firstly, a new meet oufit has been released; as it was not given an official name, it's being called the Truly Me Outfit here until as such an official name is given. Secondly, three new dolls have been added: Just Like You 67, Just Like You 68, and Just Like You 69. Thirdly, the Bald Dolls have been put into the line openly online, as Just Like You 70, Just Like You 71, Just Like You 72, and Just Like You 73.
Other items for the Truly Me Line:
For the WellieWishers:
For Bitty Baby:
For Gabriela:
Generic items released:
No BeForever items or items for Z were released.
Additionally until June 25, AG is offering buy one, get one free on select books, including BeForever classic series volumes, Historical mysteries, and activity books.
Nethilia, The Admin
June 13, 2017 / New Historical Series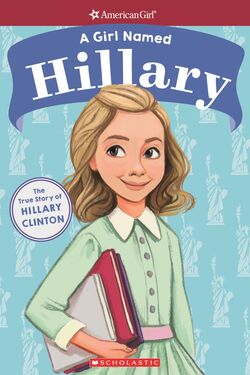 Two new series of books have popped up that will be under the American Girl Header.
The first is "Real Stories From My Time." These books are focused on actual events and occurrences that happen during a BeForever character's timeline. The first four books are:
Secondly is the "A Girl Named Series". These will be full-illustrated biographical books on the childhood and history of real historical women, mainly focused during their childhood. The first two known are:
A Girl Named Hillary: The childhood and life of Hillary Clinton, the first woman to be nominated for a major political party for president.
A Girl Named Rosa: The childhood and life of Rosa Parks, who became famous for protesting the segregation of the Montgomery Bus system in Alabama and made a name for herself during the start of the Black Civil Rights movements of the 1950s.
As usual, we strive for neutrality and respect here, as well as no rumor-monging about new characters, retirements, or designs.
Nethilia, The Admin
June 3, 2017 / New Books, Possible GotY 2018
New books have started to appear at various book seller websites, namely Amazon and Barnes and Noble:
There is no further detail whatsoever on the Girl of the Year 2018, though the information implies that, while Gabriela will remain past the end of the year, another character will be released.
Nethilia, The Admin
---
Older News

Helping Out
Not sure where to start?
Adding content
Talk and more...
Check out the community portal to see what the community is working on, to give feedback or just to say hi.
---
To write a new article, just enter the article title in the box below. Check to see if we have it first!


Hot Topic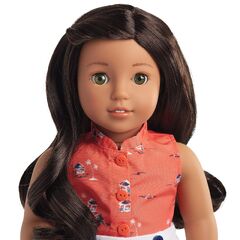 Hot Topic:
Nanea Mitchell

Nanea Mitchell is the newest BeForever character, representing Hawaii during World War II and the bombing of Pearl Harbor--an aspect never covered before by American Girl. She also has a new facemold never used before--the Nanea Mold!
---
Read more about Nanea on her article page!

American Girl In The News
Loading RSS data...
Please note that the American Girl Wiki staff does not collect or personally locate these news articles; they are pulled in by an automated RSS feed. The American Girl Wiki and its admins have no official opinion on any article seen here.
---
REFRESH
Ad blocker interference detected!
Wikia is a free-to-use site that makes money from advertising. We have a modified experience for viewers using ad blockers

Wikia is not accessible if you've made further modifications. Remove the custom ad blocker rule(s) and the page will load as expected.