American Girl Wiki News
April 2, 2014 / American Girl Specialty Boutiques grand opening
For Canadian fans of American Girl: Indigo Books and Music has announced their grand openings for the American Girl Specialty Boutiques in Toronto and Vancouver is scheduled for May 3, 2014. More information can be found at Indigo's American Girl page.
--AkaiKaze, the Other Admin
March 14, 2014 / Newly Designed Historical Books in August
New data on Amazon.com shows that American Girl multi-volume books are coming out in August. The volume books contain the Central Series, bundled in three-book sections. There are also "Choose Your Own Adventure" style books for almost all the currently available Historical Characters and box sets that will contain all three books.
* The Journey Begins: A Kaya Classic Volume 1
* Smoke on the Wind: A Kaya Classic Volume 2
* Roar of the Falls: My Journey with Kaya
* Kaya 3-Book Boxed Set
* Captain of the Ship: A Caroline Classic Volume 1
* Facing the Enemy: A Caroline Classic Volume 2
* Catch the Wind: My Journey with Caroline
* Caroline 3-Book Boxed Set
* Sunlight and Shadows: A Josefina Classic Volume 1
* Second Chances: A Josefina Classic Volume 2
* Finding Freedom: An Addy Classic Volume 1
* A Heart Full of Hope: An Addy Classic Volume 2
* A New Beginning: My Journey with Addy
* Addy 3-Book Boxed Set
* Manners and Mischief: A Samantha Classic Volume 1
* Lost and Found: A Samantha Classic Volume 2
* The Lilac Tunnel: My Journey with Samantha
* Samantha 3-Book Boxed Set
* The Sound of Applause: A Rebecca Classic Volume 1
* Lights, Camera, Rebecca!: A Rebecca Classic Volume 2
* The Glow of the Spotlight: My Journey with Rebecca
* Rebecca 3-Book Boxed Set
* Read All About It: A Kit Classic Volume 1
* Turning Things Around: A Kit Classic Volume 2
* Full Speed Ahead: My Journey with Kit
* Kit 3-Book Boxed Set
* The Big Break: A Julie Classic Volume 1
* Soaring High: A Julie Classic Volume 2
* A Brighter Tomorrow: My Journey with Julie
* Julie 3-Book Boxed Set
There is little detail on the "My Journey" books and so far there are no books listed for Marie-Grace, Cécile, or the other currently retired characters.
--Nethilia Admin
February 21, 2014 / Leaks, leaks and MORE leaks
A certain Chinese blogger has posted beta pictures of what seems to be a possible 1950s historical, along with her wardrobe. I know you lads and lasses are either excited or eager to get them in the future and would like to spread the news about it, but keep in mind that these are leaked images, and as such are not allowed here on the wiki. We don't tolerate any speculation, and of course we don't want AG to go bonkers on us, so don't even think about uploading them here, comprende?
--Blake, Gruppenführer
February 17, 2014 / The Return of Samantha
The official American Girl Facebook has announced that this fall, Samantha will be re-released, along with some new changes for the Historical line. As of this time we don't know anything else or if Nellie will be accompanying her. No speculations, please.
February 13, 2014 / New Spring Things
New things have come out for both Historical Characters, moderns, and the babies today!
For the Historical Collections:
The following are being advertised as limited edition sets:
For My American Girl:
Books:
* Doll Photo Shoot
* Pretty in Paper
For Bitty Baby:
For Bitty Twins:
February 7, 2014 / AG Store coming to Tennessee
---
Older News
Helping Out
Not sure where to start?
Adding content
Talk and more...
Check out the community portal to see what the community is working on, to give feedback or just to say hi.
---
To write a new article, just enter the article title in the box below. Check to see if we have it first!

Hot Topic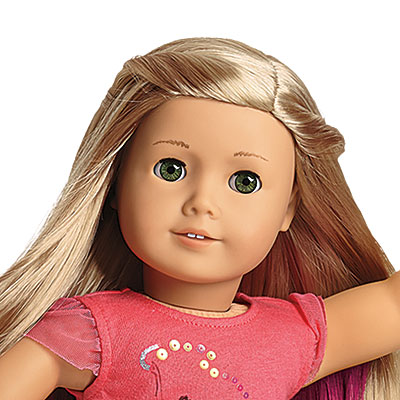 Hot Topic:
Isabelle Palmer

Isabelle Palmer is a dancer and designer from Washington, DC. She is the first Girl of the Year to have three books and a mix and match component to her collection.
---
Read more about her on the article page!
American Girl In The News
Loading RSS data...
---
REFRESH