American Girl Wiki News!
July 24th, 2017 / More on the Create Your Own Line, including Launch Day
A video about the Create Your Own line has been released by American Girl on their YouTube channel. It shows some aspects of the online designer, as well as some of the possible combinations of tones and hairstyles. This has been updated in the article.
The line is scheduled to launch August 8th in flagship stores and online.
Nethilia, The Admin
July 11, 2017 / Toys R Us Exclusive Wellie Wishers and the Create Your Own Line
More information has come out about the Create Your Own line both online and through releasing catalogs. The line--unlike Truly Me--will allow purchasers to design and purchase custom dolls themselves. Very little has been released; the line will release fully at the end of July.
I will take this moment to reconfirm that we are a wiki about information on American Girl, not about personal product consumption, purchase, or creativity. We will not allow any unneeded images, articles, or wasteful data on a person's specific created dolls, and this does not change with the launch of the Create Your Own Line. Any articles or images that appear to be about about documenting anyone's collection (beyond information on personal information pages) are not done or allowed here. Blocks will be utilized if it becomes necessary.
Nethilia, The Admin, (who doesn't care how cute your pixie-cut doll with blue eyes is, she's not going on the page just to say you made her).
June 23, 2017 / AG Rewards Only Outfits for Truly Me and Bitty Baby, Upcoming TRU only WellieWishers Outfit, 18" Custom Line information, and a Reminder on Policy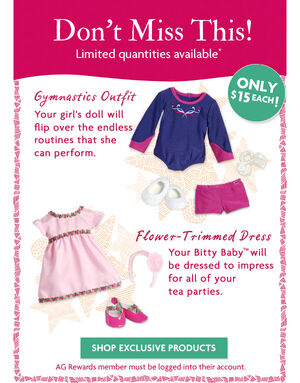 An upcoming WellieWishers outfit will be available as a Toys R Us Exclusive. Images have been seen but no name has been confirmed.
Information is starting to release about a design your own American Girl 18" doll. So far what is known is that the option will be available near the end of July. For $200 (with free shipping) a person may purchase a customized doll, customized outfit and accessory set, keepsake doll box, designed t-shirt, and a six month (three issue) subscription to American Girl Magazine.
The Administration here would also like to take this time to remind all users that we here at the A*G Wiki do not care if you are new to editing or excited about getting an article/image up first if it is poorly written or improperly done. You can and will be blocked for both violations for a minimum of a week. Read our Policies, because you will be subjected to them from moment one.
Nethilia, The Admin
ETA: American Girl has recently stated that they will no longer be able to do head replacements on Lindsey dolls through the American Girl Hospital as they have exhausted the supply. Other repairs may continue. (Edit by AkaiKaze: American Girl's Twitter statement on Lindsey.)
June 22, 2017 / The Summer Release and A Book Sale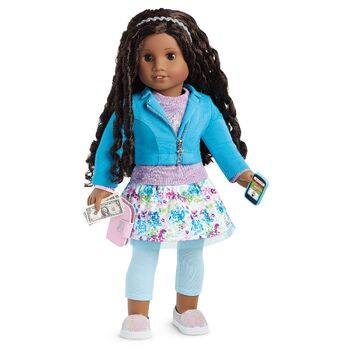 The Summer Release of new items was made, and there was a lot for the Truly Me Line. Firstly, a new meet oufit has been released; as it was not given an official name, it's being called the Truly Me Outfit here until as such an official name is given. Secondly, three new dolls have been added: Just Like You 67, Just Like You 68, and Just Like You 69. Thirdly, the Bald Dolls have been put into the line openly online, as Just Like You 70, Just Like You 71, Just Like You 72, and Just Like You 73.
Other items for the Truly Me Line:
For the WellieWishers:
For Bitty Baby:
For Gabriela:
Generic items released:
No BeForever items or items for Z were released.
Additionally until June 25, AG is offering buy one, get one free on select books, including BeForever classic series volumes, Historical mysteries, and activity books.
Nethilia, The Admin
June 13, 2017 / New Historical Series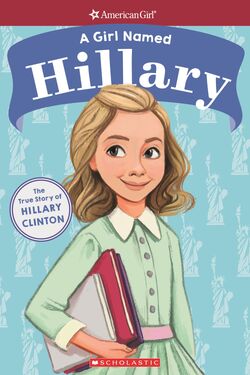 Two new series of books have popped up that will be under the American Girl Header.
The first is "Real Stories From My Time." These books are focused on actual events and occurrences that happen during a BeForever character's timeline. The first four books are:
Secondly is the "A Girl Named Series". These will be full-illustrated biographical books on the childhood and history of real historical women, mainly focused during their childhood. The first two known are:
A Girl Named Hillary: The childhood and life of Hillary Clinton, the first woman to be nominated for a major political party for president.
A Girl Named Rosa: The childhood and life of Rosa Parks, who became famous for protesting the segregation of the Montgomery Bus system in Alabama and made a name for herself during the start of the Black Civil Rights movements of the 1950s.
As usual, we strive for neutrality and respect here, as well as no rumor-monging about new characters, retirements, or designs.
Nethilia, The Admin
June 3, 2017 / New Books, Possible GotY 2018
New books have started to appear at various book seller websites, namely Amazon and Barnes and Noble:
There is no further detail whatsoever on the Girl of the Year 2018, though the information implies that, while Gabriela will remain past the end of the year, another character will be released.
Nethilia, The Admin
May 22, 2017 / No More "Permapanties"
In what can be seen as a move similar to the history of New Coke and the Windows 8 start screen, American Girl has decided to discontinue the permanent underwear that had started to be released on Truly Me dolls (and would have been released on three of the BeForever Characters), following several weeks of fan backlash and complaint. This was officially announced on the American Girl Facebook page, along with information that the most recent "boutique-style" box design would be reinstated (though it will remain for Contemporary Characters and through some of the Truly Me dolls until stock is depleted).
Existing doll inventory with permanent sewn-in underwear will still be available in stores until stock runs out. Any customers who have previously purchased dolls with permanent underwear can opt to have their dolls reverted to the old body design with a one-time no-cost exchange through American Girl (instructions here).
May 10, 2017 / First Book in the Like Sisters Series
The cover of a book in the "Like Sisters" series, Like Sisters: Emma Moves In was released today on Amazon, as well a a light summary. As of right now no further information is available about future books or items in the series (though the book being numbered #1 implies future books). The book is set for release this August.
Nethilia, The Admin
April 27, 2017 / Z's Release (Plus Extras)
Z Yang and her collection have released:
Tenney's third book, Tenney Shares the Stage, and Gabriela's second book, Gabriela Speaks Out also released today, as well as her craft book, Express Yourself With Gabriela.
For the WellieWishers, the books released are The Mystery of Mr. E and The Rainstorm Brainstorm. (WellieWishers books are now also available in three-book sets.)
Advice books released are School Rules! Writing, School Rules! Projects, and A Smart Girl's Guide: Getting It Together.
Nethilia, The Admin
April 18, 2017 / Z on Chapters
Z's initial collection has debuted on Chapters (a Canadian American Girl seller). Here at A*G Wiki, we would like to wait for the formal release through American Girl in about a week before any descriptions go up.
Nethilia, The Admin
April 12, 2017 / Nanea Book Titles
The titles of Nanea Mitchell's Central Series books have appeared on Amazon:
There are also brief summaries of each book.
Nethilia, The Admin
April 10, 2017 / 25% off BeForever Items
From April 7th until 19th, select items in the BeForever collection are 25% off through the American Girl website and at AG stores. This does not include any recent releases.
Nethilia, The Admin
March 6, 2017 / Buy One Get One 1/2 Off Select Outfits; Ivy and Julie 1976: A Happy Balance Trailer
From now until March 31st, select outfits are available for Buy One Get One 1/2 off through the American Girl website and at AG stores. The discount is applied to the lower cost outfit and applied at checkout. Outfit include Historical outfits, Truly Me sets, and a few available outfits from Lea's Collection.
Also, the trailer for Ivy and Julie 1976: A Happy Balance can be seen on YouTube. The special will be available March 24th through Amazon Prime only.
Nethilia, The Admin
---
Older News

Helping Out
Not sure where to start?
Adding content
Talk and more...
Check out the community portal to see what the community is working on, to give feedback or just to say hi.
---
To write a new article, just enter the article title in the box below. Check to see if we have it first!


Hot Topic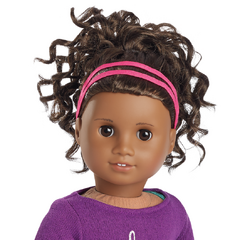 Hot Topic:
Gabriela McBride

Gabriela McBride is the Girl of the Year for 2017. She is from Philadelphia and the first black Girl of the Year since the line's inception in 2001. She is also the first Girl of the Year since Kailey to be available for longer than a year!
---
Read more about Gabriela McBride on her article page!

American Girl In The News
Loading RSS data...
Please note that the American Girl Wiki staff does not collect or personally locate these news articles; they are pulled in by an automated RSS feed. The American Girl Wiki and its admins have no official opinion on any article seen here.
---
REFRESH
Ad blocker interference detected!
Wikia is a free-to-use site that makes money from advertising. We have a modified experience for viewers using ad blockers

Wikia is not accessible if you've made further modifications. Remove the custom ad blocker rule(s) and the page will load as expected.