The American Girls Premiere is an educational application/game developed and published by The Learning Company for American Girl.
The game allows the creation and direction of unique stage plays starring the Historical Characters, from Felicity Merriman to Molly McIntire. The Second Edition release, which was released in 1998, adds Josefina Montoya to the roster, and fixed some bugs that was present in the first edition. Like in certain 2D games such as Mortal Kombat, it used digitised sprites taken from live actors.
One major disadvantage of the program was that the files made with it are only saved states rather than video files, necessitating the need for a screen recorder such as Fraps or Camstudio in order to make the play fit for viewing outside the game.
Compatibility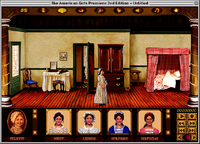 It is also known to be fully functional when run on certain Linux distributions via Wine[1]. The game's text-to-speech functionality may crash on a recent Windows release such as Windows 7, though, unless if it is launched under compatibility mode (albeit without any text-to-speech output). Also, while the game came with both 16-bit and 32-bit binaries, the Windows installer for it is 16-bit, making it practically impossible to install on a 64-bit system without resorting to workarounds.[2]
A similar compatibility issue also exists on the Macintosh build, as newer Apple devices run on Intel processors (and that Rosetta compatibility is limited - the compatibility layer does not support pre-OS X applications, not does it run on Lion, Mountain Lion and Mavericks), thus requiring an older Apple computer, or a third-party emulator such as SheepShaver, to run the game.
References