Amy Goldman Koss is the author of Kailey.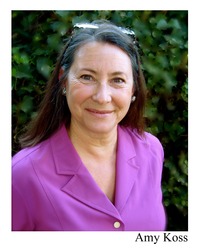 Biography
Amy Goldman Koss currently resides in Glendale, California.[1] Her family consists of her husband (a TV producer), two children, a black dog, a miniature rabbit, two turtles, and an elderly goldfish of twelve years, in addition to two weekend rats.[2]
American Girl Books
Other Books
The Girls
Side Effects
Poison Ivy
Gossip Times Three
The Cheat
The Not-So-Great Depresson
The Ashwater Experiment
Smoke Screen
Stolen Words
Stranger in Dadland
How I Saved Hannukkah
Strike Two
The Trouble with Zinny Weston
City Critters Around the World
What Luck! A Duck!
Where Fish Go in Winter and Other Great Mysteries
Curious Creatures in Peculiar Places
See also
References
Ad blocker interference detected!
Wikia is a free-to-use site that makes money from advertising. We have a modified experience for viewers using ad blockers

Wikia is not accessible if you've made further modifications. Remove the custom ad blocker rule(s) and the page will load as expected.