Ana Rubin
is the cousin of
Rebecca Rubin
.
Basic Facts
Personality and Facts
Ana is the youngest and only daughter of her parents. In Meet Rebecca, she is mentioned as being ill; the war in Russia has been poor for her health.
Ana learned English from a boarder in Russia; she has an accent which sounds like a mispronunciation. She is described by her brothers as being a girl afraid of everything. Due to the stresses of her life in Russia, Ana is very skinny and scrawny.
Family
In The Books
Trivia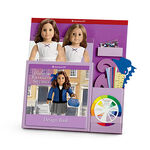 Ad blocker interference detected!
Wikia is a free-to-use site that makes money from advertising. We have a modified experience for viewers using ad blockers

Wikia is not accessible if you've made further modifications. Remove the custom ad blocker rule(s) and the page will load as expected.