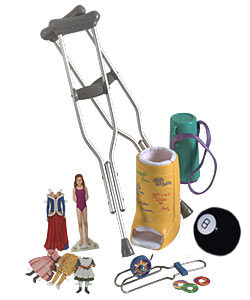 The Après-Ski Gear (also known as the Cast and Crutches Set) is an American Girl of Today accessory released in 1997, modified in 2001, and retired in 2002. It was initially paired with the Après-Ski Wear. Retail cost was $20.
Cast
Crutches
Toy
Paper Doll
Game
This was replaced with the 8-ball around 2001.
8-Ball
Thermos
Ad blocker interference detected!
Wikia is a free-to-use site that makes money from advertising. We have a modified experience for viewers using ad blockers

Wikia is not accessible if you've made further modifications. Remove the custom ad blocker rule(s) and the page will load as expected.