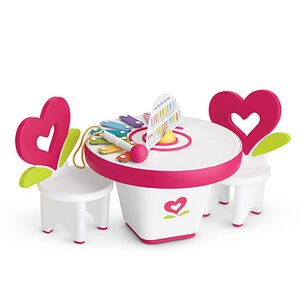 The
Art and Music Play Table
is a
Bitty Twin
accessory set released in
2009
and
retired
in
2012
. Retail cost was
$48
.
Table
White flip top circular table. Magenta trim on table top and base. Activity side is divided in half:
Attached rainbow xylophone. Full octave. Attached pink headed mallet on cord.
Center has a yellow card holder with magenta swirl.
Half circle music card to play two songs: "Row Row Row Your Boat" and (?)
Other half textured for art rubbing.
Other side of table plain surface. Magenta heart flower on base with green leaves.
Chairs
Two white chairs. Magenta trim on feet. Magenta heart flower backs with green leaves.
Ad blocker interference detected!
Wikia is a free-to-use site that makes money from advertising. We have a modified experience for viewers using ad blockers

Wikia is not accessible if you've made further modifications. Remove the custom ad blocker rule(s) and the page will load as expected.