The Ashlyn doll was released in 2016.
Ashlyn Doll
There are freckles across the nose and cheeks.
Hair: Brown, straight, bangs
Eyes: Brown
Meet Outfit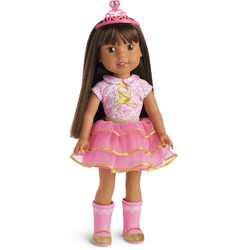 Shirt
Skirt
Tiara
Panties
Boots
The matching children's outfit is available:
Shirt: $26
Skirt: $28
Socks: $20[1]
Wellies: $26
Trivia
Prerelease/prototype images show Ashlyn's boots originally had an allover lace-like pattern instead of the faux lace trimming in the final product.
Prerelease/protoype images show Ashlyn's tiara originally was a transparent dark pink with sparkles instead of the solid pink with a silver jewel in the final product.
References
↑

The socks are part of a set and unavailable as a separate purchase.
Ad blocker interference detected!
Wikia is a free-to-use site that makes money from advertising. We have a modified experience for viewers using ad blockers

Wikia is not accessible if you've made further modifications. Remove the custom ad blocker rule(s) and the page will load as expected.