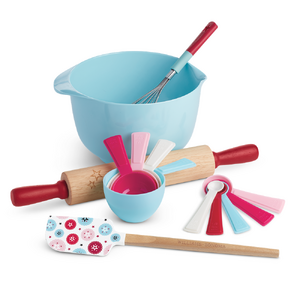 The Baking Essentials Set is an American Girl item made in partnership with Williams-Sonoma, connected to Grace's Collection, and released in 2015. Retail cost is $59.95.
Bowl
Light blue mixing bowl. Lip and short handle at top edge for pouring ease. 8" diameter. 3-quart capacity.
Measuring Cups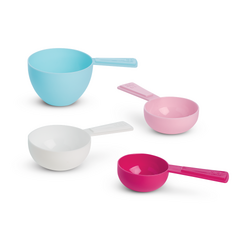 Four plastic nesting measuring cups:
magenta, 1/4 cup
white, 1/3 cup
pink, 1/2 cup
light blue, 1 cup
Circular cups; straight handles.
Measuring Spoons
Five plastic nesting measuring spoons:
white 1/4 teaspoon
red, 1/2 teaspoon
light blue, 1 teaspoon
magenta, 1/2 tablespoon
pink, 1 tablespoon
Circular wells; flared handles.
Whisk
11" long.
Rolling Pin
9" long barrel; 15" overall. 2" diameter.
Spatula
8 3/4" long.
Tip Guide
Ad blocker interference detected!
Wikia is a free-to-use site that makes money from advertising. We have a modified experience for viewers using ad blockers

Wikia is not accessible if you've made further modifications. Remove the custom ad blocker rule(s) and the page will load as expected.