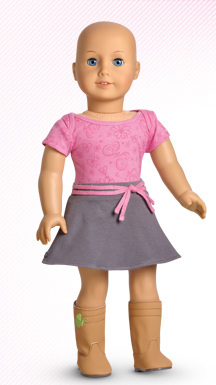 Bald Dolls are a modification where a doll is sold without an attached wig or converted by removing the attached wig.
American Girl officially states that the dolls were released "for girls affected by cancer, alopecia, or any medical condition causing hair loss."
Purchasing Dolls
Bald dolls currently can only be purchased by ordering over the phone. Various options such as skin tone and eye color are available, and there is no additional cost over standard purchase cost.  American Girl has variant face and skin tone combinations, and a owner can additionally send a current My American Girl doll in to have her sent back without hair. New dolls are dressed in the current meet outfit. The back of the heads, unlike standard AG heads, are fully smooth and dolls arrive with extra padding to prevent scratches or damage in transit.
Modification
While a standard doll can have the hair removed manually by a purchaser, there is a raised ring of plastic that would have to be smoothed, filed off, or otherwise hidden.
Attaching hair
One free head replacement is available through the American Girl Hospital at any time (which is explained in paperwork included with the purchased doll) and can be chosen from any of the matching My American Girl molds and hairstyles.
Dolls can also be rewigged with any fitting wig to add hair.
Ad blocker interference detected!
Wikia is a free-to-use site that makes money from advertising. We have a modified experience for viewers using ad blockers

Wikia is not accessible if you've made further modifications. Remove the custom ad blocker rule(s) and the page will load as expected.