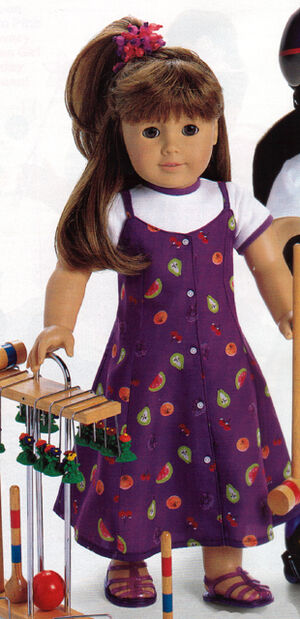 This is about the American Girl of Today Outfit. For information on the birthday themed outfits for Historical and BeForever characters, see Birthday Outfits.
The Birthday Outfit (also known as the Lawn Party Outfit) is an American Girl of Today outfit released in 1998 and retired in 1999. Retail cost was $22.
Dress
T-Shirt
White short-sleeved T-shirt. Purple edging at the sleeves and neckline. Screenprinted image of an apple, watermelon, grapes, and pear. Velcroes in the back.
Sandals
Hair Elastic
The matching girl's outfit was available:
See Also
Ad blocker interference detected!
Wikia is a free-to-use site that makes money from advertising. We have a modified experience for viewers using ad blockers

Wikia is not accessible if you've made further modifications. Remove the custom ad blocker rule(s) and the page will load as expected.