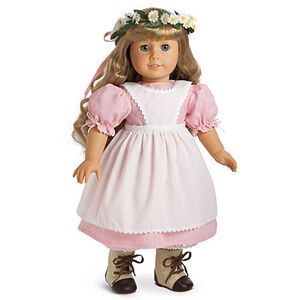 This is about the birthday themed outfits for Historical and BeForever characters. For the American Girl of Today outfit, see Birthday Outfit.
Birthday Outfits are outfits that are associated with the Birthday Books in the Historical Characters line.[1] These outfits are the same outfits illustrated on the cover of each Birthday Books in the first two book cover designs.
For the first five characters, birthday outfits were based on a pinafore- or apron-dress style and included some sort of hair decoration.
Since Kaya has a different lifestyle, she does not have a specific birthday outfit.
List of Birthday Outfits
References
Ad blocker interference detected!
Wikia is a free-to-use site that makes money from advertising. We have a modified experience for viewers using ad blockers

Wikia is not accessible if you've made further modifications. Remove the custom ad blocker rule(s) and the page will load as expected.