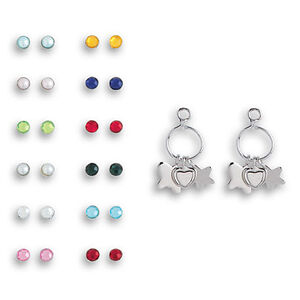 The Birthstone Earrings are a My American Girl accessory set released in 2010. Retail cost is $10.
Earrings
Twelve pairs of gemstone studs, corresponding to birthstones: garnet, amethyst, aquamarine, diamond, emerald, pearl, ruby, peridot, sapphire, opal, topaz, turquoise.
Loops
Pair of chandelier charm hoops to be attached to the studs. Each hoop has a charm of a butterfly, a heart, and a star.
See Also