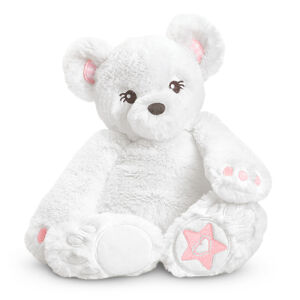 The Bitty's Furry Bear is a Bitty Baby accessory released in 2013. It is associated with the book Bitty Baby Loves the Snow. Retail cost is $30.
Bear
White plush toy bear. Grey embroidered eyes with lashes and white reflections. Grey nose. Pink gingham ear linings with pink embroidery around edge. Long loose arms with embroidered pink paw pads at hands. White appliqued plush foot pads with white edging; left sole has Bitty Baby logo in pink embroidery. Weighted bottom.
Ad blocker interference detected!
Wikia is a free-to-use site that makes money from advertising. We have a modified experience for viewers using ad blockers

Wikia is not accessible if you've made further modifications. Remove the custom ad blocker rule(s) and the page will load as expected.