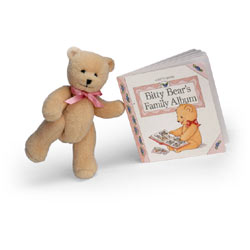 Bitty Bear
 was a five-inch tall teddy bear that was originally sold with
Bitty Baby
with the release of the line in
1995
and
retired
in
2013
with the line's revamping. She (as the character was marketed as female) was also available separately for
$12
.
Bitty Bear came with the book Bitty Bear's Family Album which was originally sold with Bitty Baby; she had a pink bow around the neck and was jointed at arms and legs with thread knots. Originally Bitty Baby's outfits came with small accessories for Bitty Bear to wear; these were eventually phased out.
In 2013, Bitty Bear was retired along with the the Bitty Bear books.
Other Bitty Animals
Other Bitty animals were released later on. They can, for the most part, wear the same accessories that Bitty Bear wears.
Each of these are available with a family album reflecting their families. At one point the Bitty Bunch were given clothing and play sets. All but Bitty Bear were retired in 2009.
Outfits and Playsets
A few outfits and playsets were released that were not tied to the Bitty Baby outfits:
See Also
Ad blocker interference detected!
Wikia is a free-to-use site that makes money from advertising. We have a modified experience for viewers using ad blockers

Wikia is not accessible if you've made further modifications. Remove the custom ad blocker rule(s) and the page will load as expected.