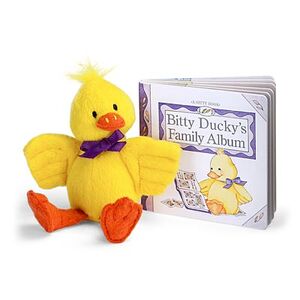 Bitty Ducky is a five-inch tall duck and a spin off of the original Bitty Bear. She was available for $12.
Bitty Ducky came with Bitty Ducky's Family Album and a purple bow.
Other Bitty Animals
Other Bitty animals were released later on. They can, for the most part, wear the same accessories that Bitty Bear wears.
Each of these are available with a family album reflecting their families. At one point the Bitty Bunch were given clothing and play sets. All but Bitty Bear were retired in 2009.
Outfits and Playsets