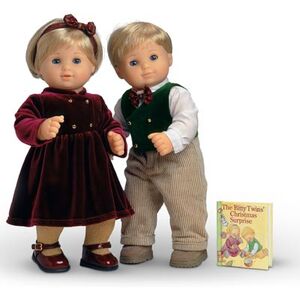 The Bitty Twins Holiday Outfits were a Bitty Twin outfit released in 2003 and retired in 2005. Retail cost was $44.
Girl's Dress Set
Red velour long sleeved dress with gold buttons. Gold tights. Red t-strap shoes. Red velvet headband.
Boy's Pants Set
White long sleeved shirt. Plaid bow tie. Green velour vest with gold buttons. Tan pants. Tan shoes. Socks.
Book
The Bitty Twins' Christmas Surprise: Children's picture book.
Ad blocker interference detected!
Wikia is a free-to-use site that makes money from advertising. We have a modified experience for viewers using ad blockers

Wikia is not accessible if you've made further modifications. Remove the custom ad blocker rule(s) and the page will load as expected.