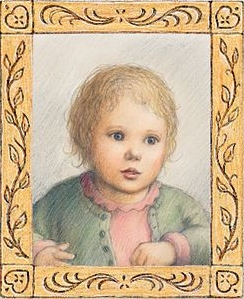 Britta Larson is the younger sister of Kirsten Larson.
Facts
Family
Personality
In the Books
Britta is born on May 25th. Since Kirsten's Mama is busy taking care of Britta and still weakened from giving birth, Kirsten stays home from school to help with the house.
Mama is described as carrying Britta during portions of the story, and Britta goes into town with the rest of the family for the 4th of July.
↑ On the day of Britta's birth, Mama tells Kirsten "...your birthday will be two weeks from this very day. June eighth." The date two weeks prior to June 8th is May 25th.
Ad blocker interference detected!
Wikia is a free-to-use site that makes money from advertising. We have a modified experience for viewers using ad blockers

Wikia is not accessible if you've made further modifications. Remove the custom ad blocker rule(s) and the page will load as expected.