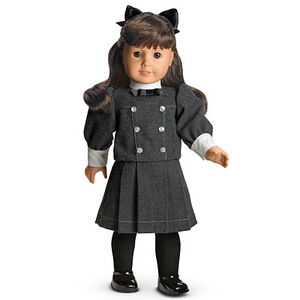 The Buster Brown Dress (also known as Samantha's School Dress) was introduced to Samantha's Collection in 1986 and retired in 2008. It is associated with the book Samantha Learns a Lesson. Retail cost was $20-22.
Dress
Grey flannel drop waisted dress with white collar and cuffs. Pleated skirt. Six white buttons in two rows on bodice. Black bow tie at neck. The front bodice and the hem of the skirt are topstitched in white. Velcros at sleeves and up back.
Hair Bow
Black satin hair ribbon.
The matching outfit was available as the School Flannel Dress for $78. It was phased out around 2000. A pattern was also available.
Trivia
Buster Brown was a character in a popular cartoon of the era; the dress is intended to evoke his clothing style.
Ad blocker interference detected!
Wikia is a free-to-use site that makes money from advertising. We have a modified experience for viewers using ad blockers

Wikia is not accessible if you've made further modifications. Remove the custom ad blocker rule(s) and the page will load as expected.