Cécile Rey
Talk

1
2,588pages on
this wiki
"Cécile" redirects here. For the doll, see Cécile Rey (doll). For the Girls of Many Lands character, see Cécile Revel.
Cécile Rey was the eleventh Historical Character of the American Girls, representing 1850s New Orleans. Cécile was released in 2011 along with Marie-Grace Gardner.
Personality and Facts
Cécile comes from a well-to-do and highly regarded family within the New Orleans community. Cécile wishes to become a stage actress, and shows a talent for storytelling, recitation, and poetry when she volunteers her time at the Holy Trinity Orphanage. Unlike Marie-Grace, Cécile is homeschooled.[5] She finds her lessons to be boring. She especially dislikes writing. Cecile takes voice lessons with Marie-Grace, but unlike Marie-Grace, she doesn't feel she's very good at singing. Cecile is very good at keeping secrets, as she kept both Armand's and Marie-Grace's secrets.
Cecile is characterized as being confident, curious, and loving the limelight. She likes to be original. Americangirlpublishing.com describes her as bold. Cecile loves to make others laugh.
While Cécile can occasionally be outspoken at times, she is also shown to be sensitive and caring, such as teaching Marie-Grace French, spending time with elderly people of color at La Maison, and keeping Armand's desire to become an artist rather than a stonecutter a secret from Papa. Cecile has also shown interest in distant lands, traveling, and adventurous as she loves to hear the exciting adventurous tales her Grandpa tells her and is in awe with Marie-Grace's experiences.
Cecile is quite interested in clothes and her appearance, and often tries to avoid getting her clothes dirty. For this reason, she's not too fond of Marie-Grace's dog Argos, who often has muddy paws.
She is always full of clever ideas and can be quite mischievous.
Her nickname, Cécé, is a diminutive of her full first name.
Family and Friends
Family
Friends and Other Characters
Books
See: List of Marie-Grace and Cécile's Books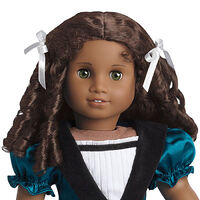 Main article: Cécile Rey (doll)
Skin: Dark
Hair: Dark brown, curly
Eyes: Hazel
Meet Outfit
Dark cerulean silk dress
White hair ribbons
Pantalettes
Stockings
High button boots
Meet Accessories
Blue hat
Pendant necklace
White gloves
Collection
See: Cécile's Collection
Trivia
Cécile is the first Historical Character to share her collection with another Historical Character, Marie-Grace Gardner, including the book series.
Prior to Cécile's reveal, she was referred under the code name "Denise" for her author, Denise Lewis Patrick.
See also
References