Changes for Julie
Talk

0
2,588pages on
this wiki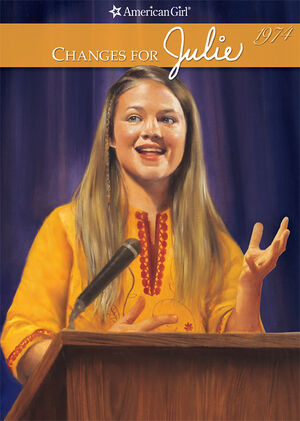 Changes for Julie
is the
sixth book
in the
Julie series
.
Facts
Characters
Introduced
Only in Changes for Julie
Chapter by Chapter Summary
Chapter One: Detention
Julie gets detention for passing a note to Joy, who is deaf and doesn't know what is going on.
Chapter Two: Poster Power
Chapter Three: Julie for President
Chapter Four: Heating Up
Chapter Five: The Election
Looking Back: Changes for America in the 1970s
Discusses the changes brought to America following Jimmy Carter's presidency. Topics covered:
The 1976 presidential election between Jimmy Carter and Gerald Ford, with many Americans feeling that Carter represented a better change in leadership and direction for America.
Challenges the Carter administration faced after the election, including high inflation and the increased competition from foreign companies.
President Carter's encouragment to find alternative energy sources and to conserve energy following the energy crisis.
Television shows people watched that distracted them from the hard times and glorified the 1950s.
The political and social changes that had many Americans not want to go back to the 1950s' way of life.
Shirley Chrisholm, a Democratic candidate in the 1972 presidential election who later went on to become the first African-American woman to be elected to the U.S. Congress.
Disabled children not being allowed to attend schools with their able-bodied peers prior to the 1970s and their integration into standard classes.
Judy Heumann, who founded Disabled in Action to advocate rights for the disabled.
Items associated with Changes for Julie