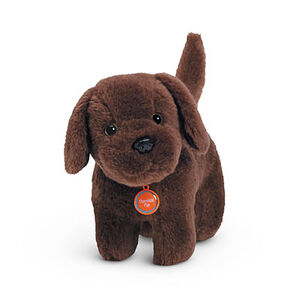 Chocolate Chip is a toy dog, released in 2011 and marketed both as part of the My American Girl and Coconut Lines.
In 2012 he was bundled into the Service Dog Set and made unavailable as an individual purchase. Retail price was $20.
Dog
Brown chocolate Labrador Retriever dog. Orange and blue collar that says Chocolate Chip on it .
Trivia
Chocolate Chip was originally marketed by American Girl as a female upon initial release.[1] Around mid-2011, Chocolate Chip was later identified and marketed as a male.
References
Ad blocker interference detected!
Wikia is a free-to-use site that makes money from advertising. We have a modified experience for viewers using ad blockers

Wikia is not accessible if you've made further modifications. Remove the custom ad blocker rule(s) and the page will load as expected.