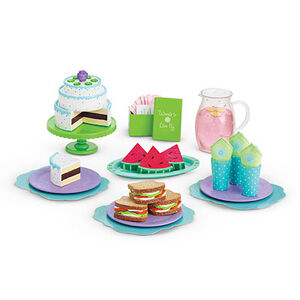 Chrissa's Party Treats
was part of
Chrissa's Collection
and, like her, was
retired
at the end of 2009. The retail cost was $32.
Pitcher
Clear pitcher with "pink lemonade" inside.
Sandwiches
Three sandwiches on wheat bread with lettuce, tomato, and spread.
Watermelon
Three slices of watermelon.
Platter
Sea green oval platter.
Cake
Three tier cake with white frosting. The top tier and middle tier are attached, and the bottom tier separates into four pieces revealing yellow and brown layers.
Box of Table Talkers
Green box with "words to live by" on the top and cards inside with positive affirmations.
Place Mats
Three aqua rectangular place mats with blue trim.
Plates
Three purple plates with blue circles.
Cups
Three blue cups with white dots.
Napkins
Three green napkins with flower stamp.
Trivia
The party treats were sold as a Just Like You accessory in 2010 under the name Party Treats for Dolls for a discounted price of $22.
Ad blocker interference detected!
Wikia is a free-to-use site that makes money from advertising. We have a modified experience for viewers using ad blockers

Wikia is not accessible if you've made further modifications. Remove the custom ad blocker rule(s) and the page will load as expected.