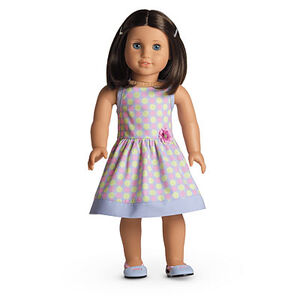 Chrissa's Sundress was part of Chrissa's Collection and, like her, was retired at the end of 2009. The retail cost was $24.
Dress
Pastel dot dress with cornflower trim and halter neckline. Rosette on left side of waistline.
Sandals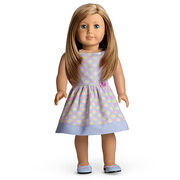 Closed-toe sandals.
Hair Clips
Matching cornflower hair clips.
Trivia
The dress was sold as a Just Like You outfit in 2010 under the name Sundress for Dolls for a discounted price of $16.
Ad blocker interference detected!
Wikia is a free-to-use site that makes money from advertising. We have a modified experience for viewers using ad blockers

Wikia is not accessible if you've made further modifications. Remove the custom ad blocker rule(s) and the page will load as expected.