Chrissa Stands Strong (movie)
Talk

3
2,589pages on
this wiki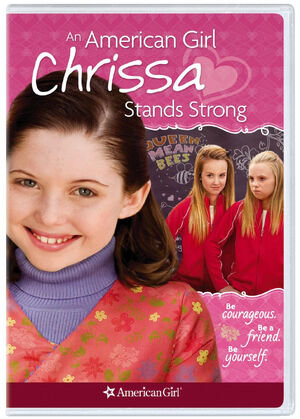 Chrissa Stands Strong
is a
movie
retelling the stories of
Chrissa Maxwell
.
Cast
Sammi Hanratty as Chrissa Maxwell
Adair Tishler as Tara James
Ariela Barer as Sonali Matthews
Kaitlyn Dever as Gwen Thompson
Shelby Harmon as Jayden Johnson
Anika Borger as Amanda
Annabeth Gish as Meg "Mom" Maxwell
Timothy Bottoms as Paul "Dad" Maxwell
Michael Learned as Louise "Nana" Hanlon
Austin Thomas as Tyler Maxwell
Joanne Baron as Mrs. Ziminsky
Jennifer Tilly as Mrs. Rundell
Don Franklin as Mr. Beck
Jennifer Parsons as Janine Thompson
Kaylin Stewart as Alexandra
Christian Pikes as Joel
Grace Rolek as Hayley
Preston/Tyler Strother as Brock
Ashley Ausburn as Rachal
Crew
Director: Martha Coolidge
Screenplay by: Christine Coyle Johnson and Julie Prendeville Roux
Plot
Movie/Book Differences
Character Differences
In the movie, Sonali does not begin to regret her actions as a bully until she starts to befriend Chrissa. In the book, she is disturbed by the bullying from the start. She also is not on the swim team in the movie.
Jadyn is a blonde in the movie; she was a brunette in the book. Also, it is implied that Tara is the cyberbully in the film while Tara is uninvolved in the book (Jadyn is the culprit).
In the books, Sonali and Jadyn are on the swim team. Also in the books, Gwen is on the swim team, but switches to being assistant to Mr. Beck. In the movie, Sonali, Jadyn, and Gwen only come to the meets.
In the movie, the spelling of Jadyn's name is changed to Jayden.
In the book, Chrissa is left-handed, while in the movie, Chrissa is right-handed.
Plot Differences
In the movie, Chrissa and Tara make a truce to allow their swim team to win. After this, Tara seems to reconsider her actions and try to reform. In the books, Tara takes the initiative to try to befriend Chrissa and Gwen, although she still accuses Chrissa of "stealing Sonali". There is no swim meet scene like in the film.
Tara dares Tyler in the movie to get at Chrissa; in the books Tara and Chrissa are already friends when she dares Tyler. Chrissa prompts this by muttering that someone should teach him a lesson for boasting about his dive and Tara takes it up. However, she is not as malicious as she is in the film.
The Solidarity Scarves only appear near the end of Chrissa, but they are more prominent in the movie.
Television Release
The movie premiered on HBO at 7:15 EST/PST on Monday, January 5th, 2009.
DVD Release
The DVD was released on January 6th, 2009 through the website and various retailers.
Items Associated With the Movie
Links
Trivia