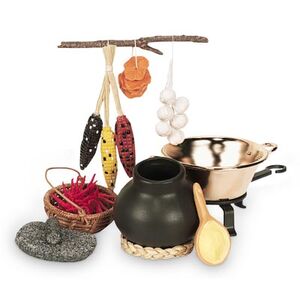 The Cocina Supplies (also known as Josefina's Cocina Supplies) were introduced to Josefina's Collection in 1998 and retired in 2007. It is associated with the book Changes for Josefina. Retail cost was $25.
Mano
Metate
Jar
Ring
Dipper
Chiles
Basket
Squash
Garlic
Corn
Pot
Trivet
Trivia
Ad blocker interference detected!
Wikia is a free-to-use site that makes money from advertising. We have a modified experience for viewers using ad blockers

Wikia is not accessible if you've made further modifications. Remove the custom ad blocker rule(s) and the page will load as expected.