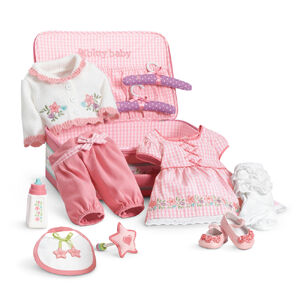 The Deluxe Layette Set is a Bitty Baby clothes and accessory set released in 2013. Retail cost is $115.
Dress
Light pink gingham short-sleeved dress. Medium pink narrow ribbon trim at waist, cuffs, and square neckline. Three bows of same ribbon down bodice front. Pale green and pink embroidery near skirt hem depicting flowering vines. White eyelet lace at hem.
Cardigan
Off-white cardigan sweater with pink scalloped trim at hem, cuffs, and around the narrow collar. Embroideries of pink and blue flowers on green vines at each side of front near hem. Three non functional white buttons down front.
Pants
Medium pink pants. Elastic at waist and around ankles. Decorative band of pink gingham, matching the dress, around waist with bow at left hip.
Tights
White tights with lacy white bow accents.
Shoes
Light pink slippers with Mary Jane straps. Medium pink bows on toes.
Rattle
Light pink star-shaped rattle with medium pink edge trim. Medium pink heart in center. White handle with light green and pink knob at the bottom.
Bottle
White plastic bottle. Pink lid with light blue nozzle. Print of light green vines with pink flowers on one side of bottle, these match the embroidered vines on the dress.
Bib
White bib. Medium pink edge trim and neck strap. Small bow of light green ribbon on center front; two pink stars that match the rattle attached to ends of bow. These are also sewn to the bib itself.
Hangers
Two white plastic hangers encased in fabric. Print on fabric is pink dots on a purple background. Pink ribbon and bow trim at hanger centers.
Suitcase
Medium pink suitcase. Light pink gingham lining. "Bitty Baby" logo embroidered on inside of lid. Large pocket below logo of light pink gingham. Outside of suitcase has a white stripe with light green vines and pink flowers on it, matching the dress embroideries and the bottle. Pink handle. Closes with a zipper.
Ad blocker interference detected!
Wikia is a free-to-use site that makes money from advertising. We have a modified experience for viewers using ad blockers

Wikia is not accessible if you've made further modifications. Remove the custom ad blocker rule(s) and the page will load as expected.