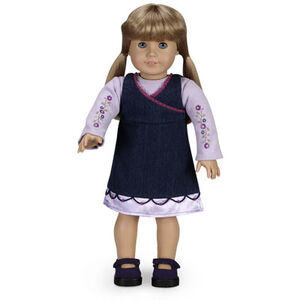 The Denim Jumper Outfit is an American Girl of Today outfit that was released in 2001 and retired in 2003. Retail price was $22.
Jumper
Dark blue denim jumper. Lavender and magenta satin, bead, and lace trimmings.
Top
Lavender long-sleeved T-shirt with floral trim on the sleeves.
Shoes
Purple Mary Jane shoes.
The girl's outfit was available: