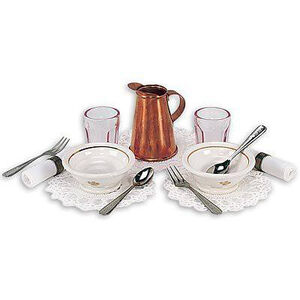 A Dishes and Glassware set is a Historical Character's set of dishes, silverware, and glassware.
The sets were initially tied to birthday stories (and thus Birthday Collections) and were seen in small aspects on the covers, generally on top of the Table and Chairs. The items were based on historical dishware and utensils and generally included two place settings, and additional serving pitchers or utensils.
References
↑ 1.0 1.1 1.2 1.3 These sets also included what could classify as Party Treats.
Ad blocker interference detected!
Wikia is a free-to-use site that makes money from advertising. We have a modified experience for viewers using ad blockers

Wikia is not accessible if you've made further modifications. Remove the custom ad blocker rule(s) and the page will load as expected.