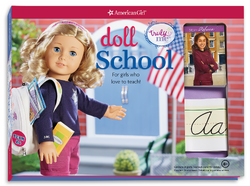 The Doll School is an doll activity book introduced in 2009 and updated in 2015 to be tied to the Truly Me line before being replaced by a newer version.
Retail cost for the 2009 release was $17.95; this was increased to $21.99 with the 2015 release.
Book
32-page instructional book.
Chalkboard/Whiteboard
Reversible doll-sized chalkboard/whiteboard.
Mini Book
Miniature Meet Rebecca paperback book.
Calculator
Faux cardboard calculator.
Papers
Assorted school-related papers. Many of the listed items are printed on cardstock.
Folders
Tests
Report cards
Alphabet banner
Certificates
Writing journals
Teacher's booklet
Map
Coloring sheet
Easel
Magnifying Glass
Faux magnifying glass.
Editions
Ad blocker interference detected!
Wikia is a free-to-use site that makes money from advertising. We have a modified experience for viewers using ad blockers

Wikia is not accessible if you've made further modifications. Remove the custom ad blocker rule(s) and the page will load as expected.