The Doll Travel Set is a American Girl accessory set released in 1991 and retired in 2000. Retail cost was $45.
Basket
Wicker woven oval carrying basket. Pink and cream gingham plaid fabric cover over sides; white thread picot lace trim at upper edge and elastic gathered bottom. "The American Girls Collection" embroidered ribbon on upper side to hold on cover (logo spaced by hearts on cream ribbon with maroon edging); two pearl beads at seam. Pleasant Company logo tag; other side labeled "I Belong to" with two lines for name. Maroon crepe bow on handle. Large enough to carry a doll.
Hanger
Rattan woven hanger.
Garment Bag
Pink and cream gingham plaid garment bag. Maroon crepe ribbon bow attached at top with clear button (buttoned into top button hole). Maroon ribbon trim on front opening and bottom edge; white thread picot lace on front opening. Three maroon buttons down front. Left side has Pleasant Company/American Girls Collection embroidered patch. Opening at top for hanger.
Ditty Bag
Pink and cream gingham plaid ditty (accessory) bag. Round base. Cream picot lace on front side and top edge. Maroon decorative ribbon at side. Draws close with maroon crepe ribbon.
Children's Travel Set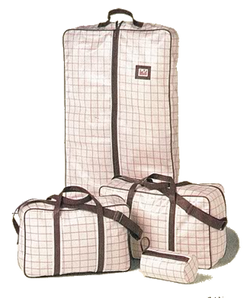 A matching children's traveling set was available:
Garment Bag: $42 (later raised to $50)
20" Bag : $30 (later raised to $35)
17" Bag : $25 (later raised to $30)
Ditty/Accessory bag (included toothbrush holder and soap dish): $10
The complete set sold for $85 (later raised to $125).
Ad blocker interference detected!
Wikia is a free-to-use site that makes money from advertising. We have a modified experience for viewers using ad blockers

Wikia is not accessible if you've made further modifications. Remove the custom ad blocker rule(s) and the page will load as expected.