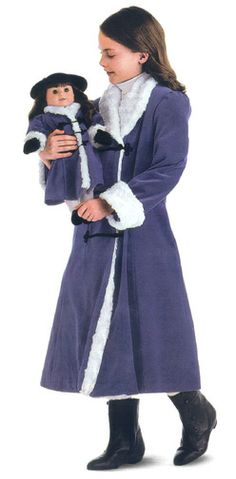 Dress Like Your Doll is the fandom and later official term from American Girl for doll outfits that have a matching child-sized outfit. This encourages targeted children to seek complementing outfits.
Around 1988, Pleasant Company released outfits which were child-sized replicas of many of Samantha, Molly and Kirsten's outfits. As new Historical characters were released, matching outfits were released in a size range of Girls' 7 to 16. Also included were stockings, petticoats, hats, jewelry, specialty shoes or boots, and other accessories.
Samantha Parkington, Felicity Merriman, and Kirsten Larson received clothing that resembled each of their Central Series book outfits as well as sleepwear. Since Molly McIntire's summer book was based on campwear, instead a girl's version of the Tap Dance Costume was released.
Addy Walker only received outfits based on her first four books and her nightgown. Josefina Montoya received her Meet outfit, Christmas Dress, Riding Dress and night shirt. Kit Kittredge received her meet outfit, Christmas dress, and pajamas. For all characters after Kaya[1], only sleepwear was made available which were generally released as characters were released.
Patterns were briefly available as well for select items.
These were phased out for the most part in the late 1990 and early 2000s. There was a re-release of Kit's Meet Outfit with her movie that was later retired, as well as a coat based on Samantha's Holiday Coat from the movie.
Prior to the BeForever launch, the only outfits that were available and directly imitated Historical outfits were nightgowns, robes, or pajamas for available characters.
With the launch of BeForever, outfits inspired by the currently available Historical characters' meet outfits, as well as Samantha's redesigned nightgown following Samantha's rerelease, were made available. Outfits based on limited edition outfits and revamped sleepwear for all the BeForever characters were also made available.[2]
The modern line frequently releases matching outfits to some of the offered clothes in Girls' sizes 6 to 16. Outfits have been offered since the start of the line and generally focus on casual wear, beachwear, sleepwear, some costumes, and special occasion clothing. They are generally sold in separate components and, while tights are often offered, most hair decorations are not, and no shoes other than bedroom/night slippers.
Souvenir shirts from American Girl Place often come in girl's sizes.
Bitty Baby and Bitty Twins frequently releases matching outfits for girls in sizes from Young Girls' 3 to 7. They are generally modified to be less infantile (e.g. turning the design of an infant slipper into a pajama top and pants). Outfits styled after Bitty Twin boy outfits were never released.
With Our New Baby, some of the clothes for the dolls were offered in infant sizes.
Starting with Kailey's Wet Suit and Bikini, one or two outfits have been available from each Girl of the Year's Collection. This is generally the meet outfit (modified if needed), sleepwear, and another outfit.[3] This does not have to be the whole outfit--only the shirt from Nicki's Ranch Outfit was offered, only the sweater from Saige's Sweater Outfit, and a modified apron based on Grace's Baking Outfit.
Matching outfits for girls was made available with the line's debut, similar to the outfits worn as meet outfits for the dolls. The boots were modified into socks sold as a five-pair set, the WellieWishers Sock Set; a pair of see-through wellies, the Peek-A-Boo Wellies, were sold alongside.
Other
American Girl Place exclusive items such as shirts and hats are often available in girls' sizes.
A shirt based on Z from the Z.Crew was released, the Z.Crew Tee Shirt.
In the past, there were occasionally outfits and items released for girls that are not associated with any doll's clothing.
References
↑

Likely due to cultural sensitivity, no outfits directly based on Kaya's specific clothing was ever available.

↑

Caroline is the exception as her archival had been announced prior to the BeForever line getting revamped bedtime collections.

↑ For Isabelle Palmer, a majority of her separates--with leotards modified to tanks--were made available.
Ad blocker interference detected!
Wikia is a free-to-use site that makes money from advertising. We have a modified experience for viewers using ad blockers

Wikia is not accessible if you've made further modifications. Remove the custom ad blocker rule(s) and the page will load as expected.