The Earth Day Outfit was a American Girl of Today outfit released in 1996 and retired in 1998. Retail cost was $22.
Shirt
Pink, yellow, and blue diagonally tie-dyed shirt. Velcros up the back.
Overall Shorts
Denim bib overall carpenter shorts with yellow stitch trim and silver fasteners and buttons. Functional front and back pockets. Velcro at hips (with button trim) and hook over the shoulders. Has a front bib pocket with a "Save the lions" patch and flower patch on back. Adjustable straps.
Sandals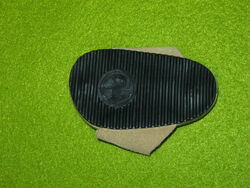 Tan slip on Birkenstock-style sandals with functional buckles and black ridged soles. Recycling logo on soles.
Barrette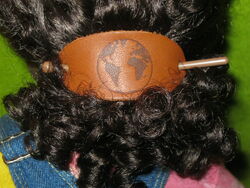 Leather hair barrette with plastic stick closure. Has earth logo stamped on it.
Ad blocker interference detected!
Wikia is a free-to-use site that makes money from advertising. We have a modified experience for viewers using ad blockers

Wikia is not accessible if you've made further modifications. Remove the custom ad blocker rule(s) and the page will load as expected.