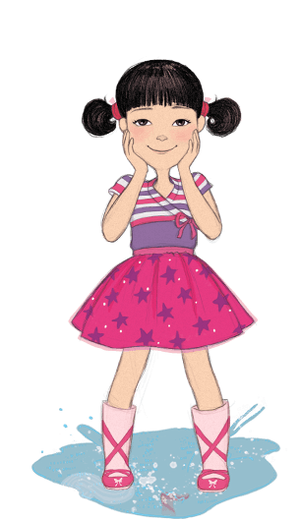 Emerson is one of the five main characters in the WellieWishers line.
Personality, Description, and Facts
Emerson is an elementary aged East-Asian appearing girl with black hair (frequently worn in two twisted buns), light skin, and dark brown eyes.
She is the actress, dancer, and entertainer of the group, enjoying the spotlight and performing on stages. She likes to say things three times in a row, and frequently makes poems and songs off the top of her head (more than the other girls). Her outfit reflects this with a wrap ballet style top, star spangled tulle skirt, and ballet shoe styled wellies. She also wears two pink tulle-trimmed ponytail holders in her hair.
Books
While Emerson is in all the books, she is the focus of The Muddily-Puddily Show.
Other Media
Doll
See Emerson (doll)
Trivia
See Also
References