Ad blocker interference detected!
Wikia is a free-to-use site that makes money from advertising. We have a modified experience for viewers using ad blockers

Wikia is not accessible if you've made further modifications. Remove the custom ad blocker rule(s) and the page will load as expected.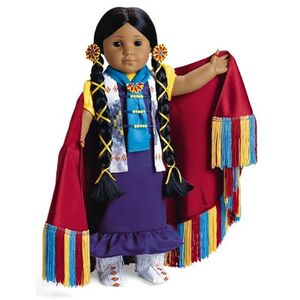 The
Fancy Shawl Outfit of Today
(also known as
Kaya's Fancy Shawl Outfit of Today
) was introduced to
Kaya's Collection
in
2003
and
retired
in
2007
. Retail cost was
$24
.
Shawl
Red silk half-circle shawl. Red, yellow, and blue attached fringe. Red elastic loops for holding.
Blouse
Yellow silk blouse with gathered short sleeves.
Vest
Purple silk vest with blue silk trim.
Kerchief
Blue rectangular kerchief.
Neck Rosette
Beaded rosette. Purple bead center surrounded by blue beads on yellow background. Red rays spreading from center. Elastic band to loop around kerchief.
Beaded Yoke
Woven white yoke with multicolored pattern of Red, yellow, purple, and blue triangle and diamonds. Three rows of small blue beads and five, large, yellow beads in center.
Skirt
Purple calf-length satin skirt. Ruffled hem.
Moccasins
White ankle-high moccasins with fringe. White ribbons to wrap on moccasins. White woven stripe down moccasin with yellow, red, and purple diamond design.
Rosettes
Two beaded rosettes. Purple center surrounded by blue. Red rays on yellow background with patterned purple beads around the rim. Elastic bands to attach to braids.
Ribbons
Thin long yellow hair ribbons. Wrap around braids.
Trivia
In modern pan-Native American culture, the shawl fringe is not supposed to touch the ground during the dance.
See Also