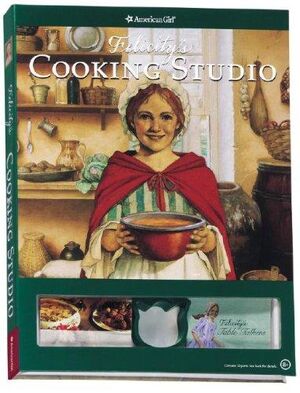 Felicity's Cooking Studio was a cooking studio based on Felicity Merriman.
Contents
Wire-bound Recipe Book
Ten reusable place cards
Dark Green Plastic Tulip-shaped cookie cutter
Twenty "table talker" cards
Book Contents
Felicity's Kitchen: Information about cooking in the Colonial Era.
Colonial Cooking: Methods and trends in food and cooking.
Setting Felicity's Table: Kitchen dining styles.
Tips for Today's Cooks: Information on food prep, based on the kitchen of the time. There is also a "Handy Hints" on a tear-out card.
Recipes
Breakfast
Apple Butter
Johnnycakes
Breakfast Puffs
Fried Ham With Gravy
Dressed Eggs
Dinner
Chicken Pudding
Veal Balls
Sweet Potatoes and Apples
Sally Lunn Bread
Green Beans
Whipped Syllabub
Favorite Foods
Beefsteak Pie
Baked Pumpkin Pudding
Raspberry Flummery
Almond Tarts
Spiced Nuts
Liberty Tea
Party Ideas
Felicity's Colonial Tea
Craft: Parchment Invitation
Craft: Stenciled Name Cards
Craft: Fruit Pyramid Centerpiece
Recipe: Queen Cakes
Twelfth Night Ball
Craft: Fan Invitation
Mini-Recipe: Twelfth Night Cake
Mini Recipe: New Year's Cookies
Activity: Minuet
Plantation Picnic
Craft: Sweet-Smelling Invitation
Mini-Recipe: Cranberry-Apple Punch
Mini-Recipe: Chicken Salad
Activity: Scotch-Hoppers
Activity: Bowls
See Also