Felicity's Craft Book was a craft book focused on Felicity Merriman.
Contents
Introductions/Historical Information
Crafts from the Past
Craft Tips
Letter Perfect
Crafts about handwriting and penmanship.
Quill Pen
Berry Ink
Walnut Ink
Wax Seal
Fun and Games
Crafts for playthings.
Game of Graces
Cup and Ball
Kite
On the Plantation
Crafts associated with summer activities.
Folding Fan
Fancy Straw Hat
Fruit Pyramid
A Stitch in Time
Sewing crafts.
Cross-Stitch Sampler
Sachet
Friendship Pincushion
Sweet Scents
Crafts for scented items.
Potpourri
Tussie-Mussie
Pomander Ball
Felicity's Craft Book and Kit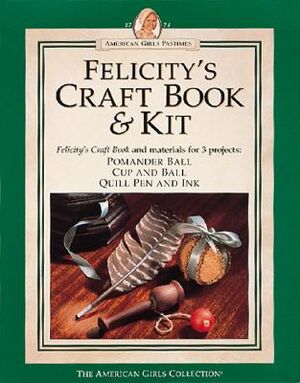 Felicity's Craft Book and Kit included the book and supplies to create three items: Pomander Ball, Cup and Ball, and Quill Pen and Ink.