Felicity's Guitar was introduced to Felicity's Collection in 1992 and was later retired; it is associated to Happy Birthday, Felicity! and was given to her as a gift from Grandfather.
First Release
A wooden guitar with a red burgundy ribbon. The retail cost was $25.
Second Release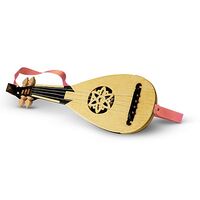 A simulated wooden guitar with a pink ribbon that matches Felicity's Spring Gown. Decorative rosette sound hole. The retail cost was $24.
Ad blocker interference detected!
Wikia is a free-to-use site that makes money from advertising. We have a modified experience for viewers using ad blockers

Wikia is not accessible if you've made further modifications. Remove the custom ad blocker rule(s) and the page will load as expected.