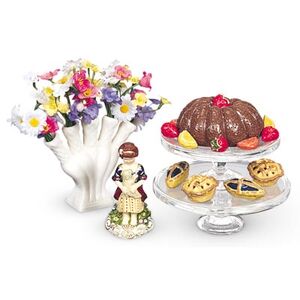 Felicity's Party Treats
was introduced to
Felicity's Collection
in
1992
and
retired
in
2005
. It is associated with
Happy Birthday, Felicity!
. Retail cost was
$28
.
Salvers
Two glass salvers.
Cake
Brown pretend cake with faux sugar sprinkled on top.
Strawberries
Five faux marzipan strawberries.
Lemon Slices
Two pretend candied lemon slices.
Orange Slices
Two pretend candied orange slices.
Tarts
Four pretend fruit tarts.
Flowers
Bouquet of white, pink, purple, and yellow flowers.
Vase
Five-fingered porcelain quintal vase.
Figurine
Hand-painted figurine.
Trivia
There were two variations of the figurine: one featured dark brown hair and the other featured light brown hair.
The dark brown haired figurine had dots going down the dress, and the light-brown haired figurine had stripes.
The lamb that the figurines hold were different sizes: the dark-haired figurine had a smaller lamb than the light-haired one.
The base for the figurines were different: the dark-haired figurine's base was an off-white cream color and featured less scrollwork than the light-haired figurine's base, and the light-haired figurine's base was also more white.
Ad blocker interference detected!
Wikia is a free-to-use site that makes money from advertising. We have a modified experience for viewers using ad blockers

Wikia is not accessible if you've made further modifications. Remove the custom ad blocker rule(s) and the page will load as expected.